The combined Expected Transfer Value (xTV) of a squad is not only an indicator of their decision makers' astute transfer business, but also the development of their talents and the evolution of their profile in the international transfer market.
How good is the Saudi Pro League?
Cristiano Ronaldo has claimed that the Saudi Pro League could one day be among the strongest competitions in world football.
Shortly after his old rival Lionel Messi joined Inter Miami, Manchester United and Real Madrid icon Ronaldo, who moved to Al-Nassr FC in January 2023 and sparked a host of big-name arrivals in Saudi Arabia, stated that the Saudi league is better than Major League Soccer.
He believes the competition can go on to compete with Europe's top five leagues - the Premier League, LaLiga, Bundesliga, Serie A and Ligue 1.
And Brazil star Neymar Junior has also said it could already be better than his previous competition, Ligue 1, after swapping French champions Paris Saint-Germain for Al Hilal SFC.
But where does the Saudi Pro League really rank in terms of player quality? Our in-depth data insights reveal where it stands after the Summer 2023 Transfer Window.
TransferRoom's new data-led Player Ratings feature gives clubs and agents an at-a-glance guide to a player's overall quality in the wider landscape of their domestic league and internationally.
It also provides a tool to measure the relative strength of different leagues. By calculating the average Player Rating of first-team starters in each competition worldwide, TransferRoom has produced a league table of leagues to clarify where the Saudi Pro League ranks in the global football landscape.
Everything you need to know about TransferRoom's Player Ratings
How is the TR Player Rating calculated?
Broadly, a player's rating takes into account the following:
The quality of the team he plays for

How regularly he plays

The standard of competition he plays against

His individual performance statistics, weighted by the stats most relevant to his position
Our sophisticated algorithm based on millions of data points is constantly being updated, so the ratings adjust with every game.
Revealed: Where the Saudi Pro League ranks worldwide
So where does the Saudi Pro League stand after an influx of marquee signings, including Karim Benzema (Al-Ittihad Club), Neymar (Al Hilal), Riyad Mahrez (Al-Ahli Saudi FC), Sadio Mané (Al-Nassr) and Jordan Henderson (Al-Ettifaq FC)?
Our Player Rating system suggests that the Saudi league is starting to prove Ronaldo right, with their score just short of the average rating of players in MLS after a rapid rise this summer.
Top 20 leagues by Average Player Rating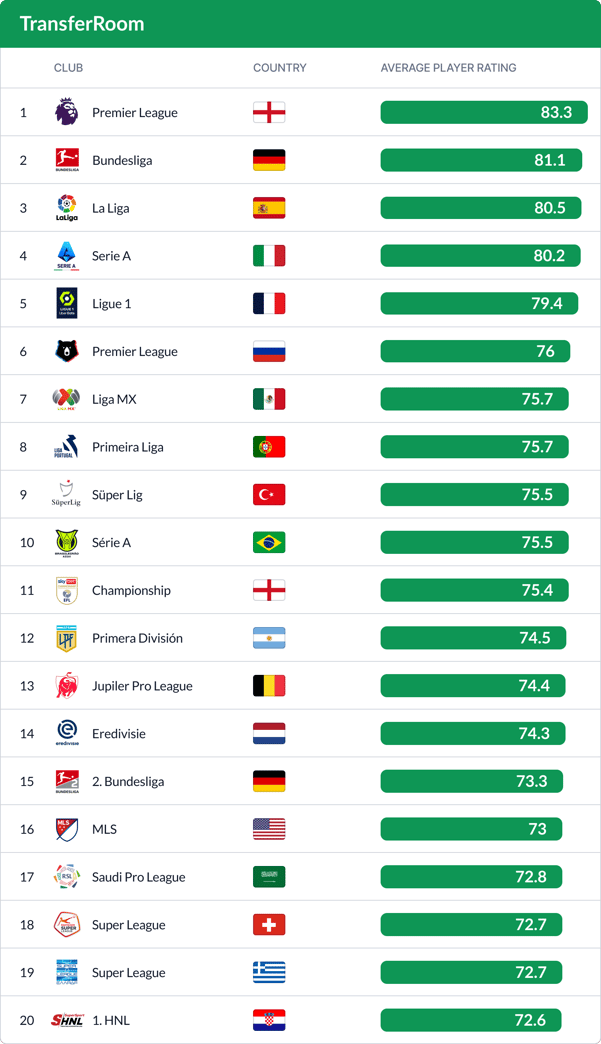 It also shows how far the biggest disruptor in world football has come in a short time, thanks to an ambitious recruitment drive that started with Ronaldo and shows no signs of ending.

It's little surprise to see the English Premier League at the top of the table, with Germany's Bundesliga, Spain's La Liga, Italy's Serie A and France's Ligue 1 completing the top five.
The Saudi Pro League sits in 17th place, with its average Player Rating at 72.8 - one place below MLS, with an average of 73. According to our data, the Saudi league would need two more signings rated at an average of 85, which is between the level of new Al-Hilal recruits Kalidou Koulibaly (85.9) and Rúben Neves (84.6).
The rate of change in the Saudi competition's average quality of player is particularly significant, with the league 14 signings of 85+ rated players away from catching the Netherlands' Eredivisie (74.3), and 25 such transfers behind Portugal's Primeira Liga (75.7).
The statistics suggest that the Saudi Pro League is a long way from Ligue 1's strength in depth currently. The league would need 57 signings at an average of 85 to equal the Player Rating score of the French top flight, and 90 such transfers to match the quality of the Premier League.
Benzema tops the highest-rated SPL players
Before this summer's spending spree, SPL's average Player Rating was 69.8, which would have put it in 39th place, just above the top leagues in Uruguay and Ukraine.
An incredible summer spending spree, beaten only by the Premier League's total spend, has brought in a number of players with high ratings that have driven the figure upwards.
Top of the list is Ronaldo's ex-Real Madrid team-mate Benzema, with 95.1.
Mahrez, who won the Premier League, UEFA Champions League and FA Cup Treble with Manchester City last season, is second with a Player Rating of 88.7.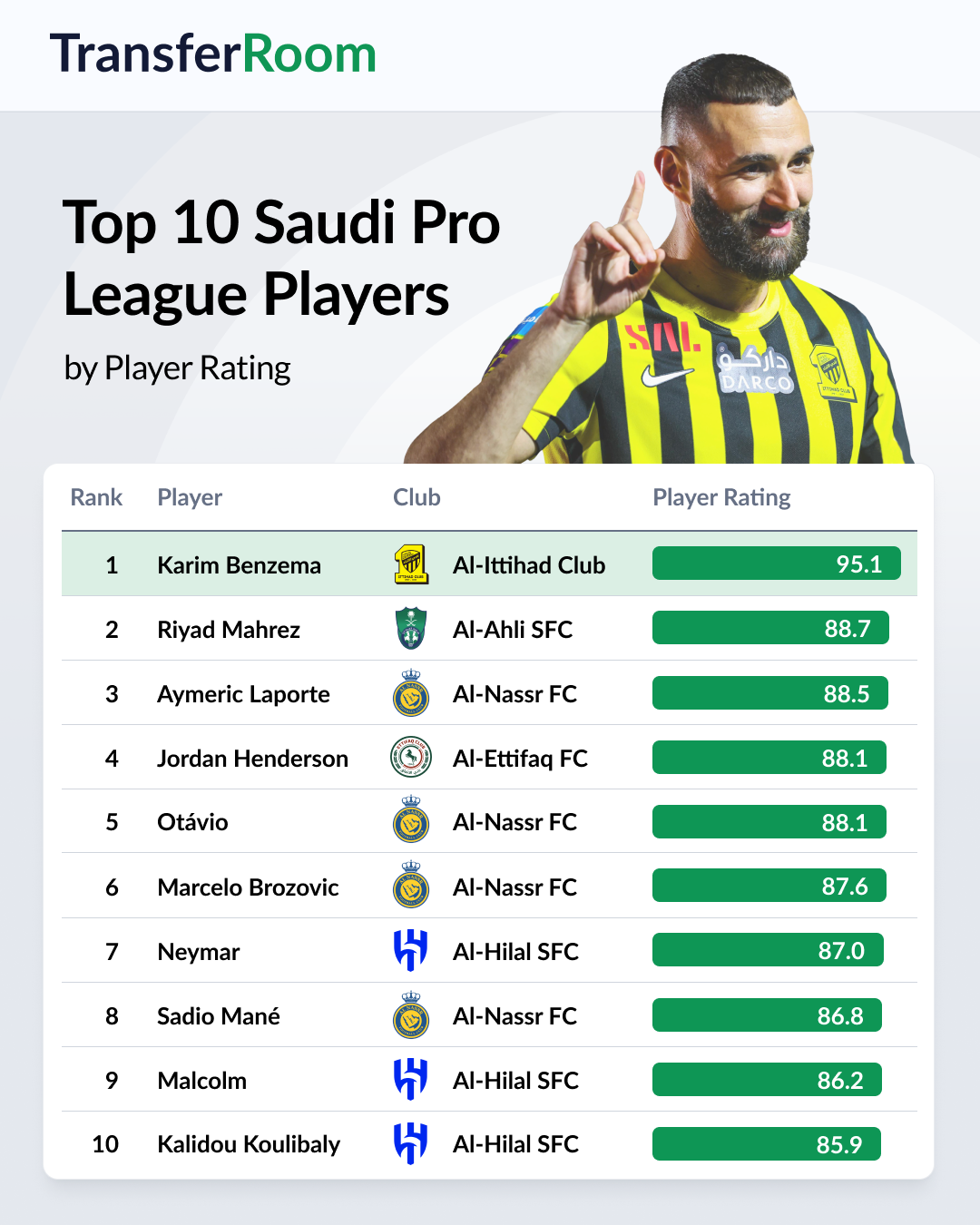 The Saudi Pro League is also making an impact on TransferRoom, with Al-Fateh SC becoming the first club from the country to join world football's digital transfer marketplace.
As members, they get access to a network of decision makers from over 700 clubs worldwide, plus more than 350 Trusted Agencies. They can see real-time data and player availability from more than 100 leagues in the transfer market.
They also have access to TransferRoom's Player Rating feature and other tools to give them the edge in recruitment.
The TransferRoom Player Rating is designed to give clubs and agencies a quick, easy-to-understand measure of a player's quality, to help with the process of finding the right opportunities and level both for their players and the potential signings they are targeting.
Related content