TransferRoom's platform gave us the opportunity to contact the selling club's decision makers directly and make our interest known in signing Viktor Gyökeres.
Director of Football
,
Sporting Clube de Portugal
Initiating contact with the key decision makers
Sporting Clube de Portugal made history on multiple fronts with their €20million summer signing of Viktor Gyökeres.
The Swedish striker caught the eye of Sporting after scoring 21 goals and registering 12 assists in the 2022-23 season to help Coventry City reach the English Championship play-off final.
It is not only the biggest transfer fee Sporting have paid for a player, eclipsing the €16m signing of the Swede's new strike partner of Paulinho, but it is also the most valuable deal ever helped by TransferRoom.
Sporting's Director of Football, Hugo Viana, and his recruitment team used world football's digital marketplace to declare interest in Gyökeres and contact the selling club's decision makers, and it was that direct and trustworthy access to the right people at the selling club that helped set up the landmark deal.
That then opened up the opportunity for Sporting to negotiate the deal with Coventry and Gyökeres' agency, HCM Sports Management.

"TransferRoom's platform gave us the opportunity to contact the selling club's decision makers directly and make our interest known in signing Viktor Gyökeres," Viana said.

"That direct access to the key people at Coventry City made a big difference in accelerating negotiations for our club-record transfer.

"The platform also provides us with a reliable database of trustworthy contacts to deal with, which was really valuable in this case and benefits our wider transfer business."
Top five deals helped by TransferRoom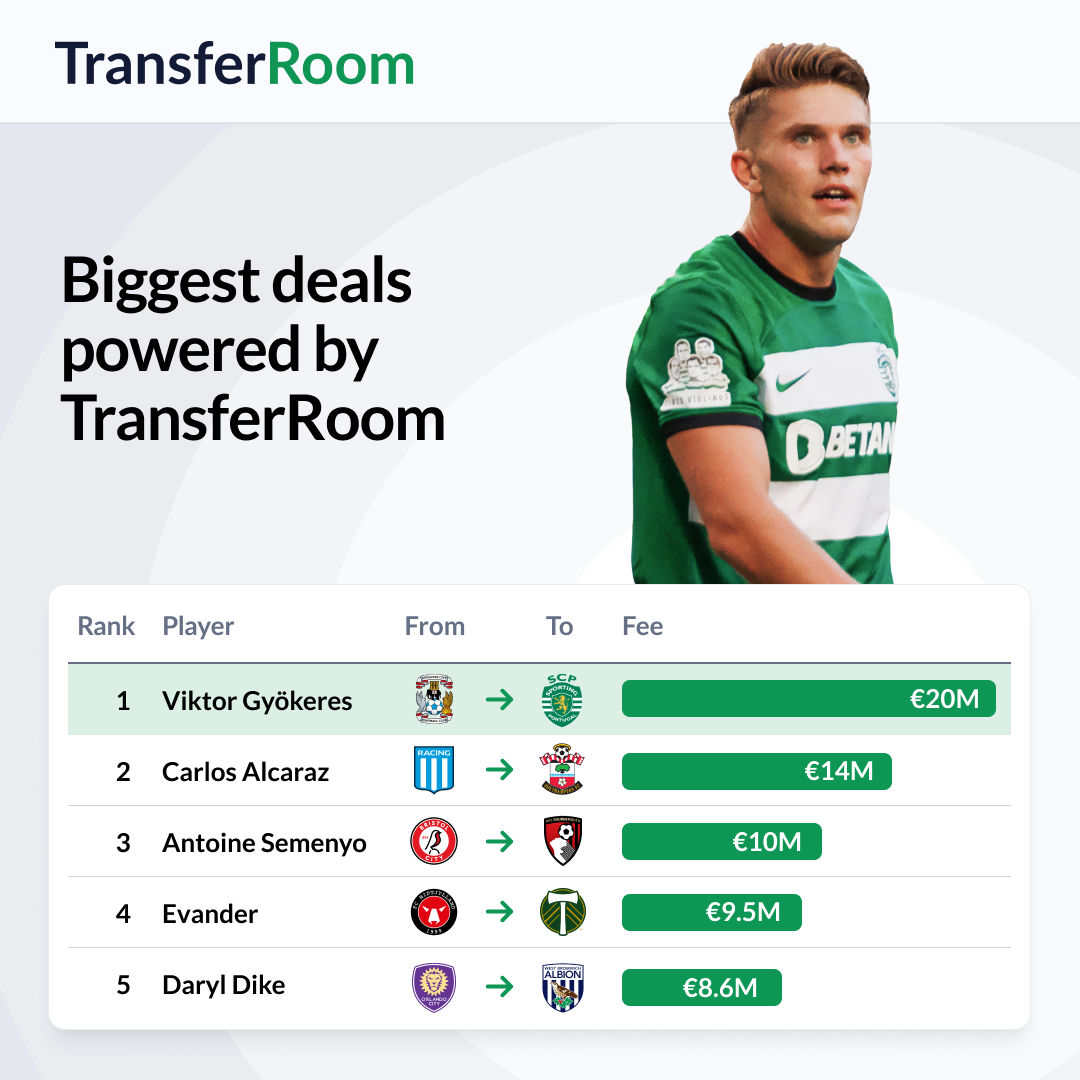 It surpasses the previous TransferRoom record, Carlos Alcaraz's €14m transfer from Racing Club in Argentina to Southampton, then in the Premier League, in January 2023.
Insua & Rol Sports Group, a Trusted Agency on TransferRoom, used the platform to initiate negotiations with the key people at Southampton and managed to get the deal done within one week.
Sebastián López, Partner at Insua & Rol, said in the video below: "As the main player in our portfolio we were keen to move Carlos on. At the start of the transfer window Southampton got in contact with us and sent me a message on the platform and obtained my contact details. Within a week from the first point of contact we were able to conclude a deal."

The Alcaraz deal came in the same Winter Transfer Window as Antoine Semenyo's €10m move from Bristol City to Premier League side AFC Bournemouth, and Evander's €9.5m switch from Danish Superliga club FC Midtjylland to Portland Timbers in Major League Soccer.
In Evander's case, Midtjylland saw that Timbers were seeking a player similar to the Brazilian attacking midfielder's profile after placing an ad on TransferRoom and they pitched him directly to the club, showing how selling sides can cater for buyers' needs successfully through the platform.
Kristian Kjaer, Director of Recruitment & Head of Sports Law at Midtjylland, told TransferRoom: "Evander had a lot of interest from MLS for the last two or three years, so for us it made a lot of sense to react to the advert. I tried out the pitch because I wanted to see if it would create something special."
The deal that completes the top five was also a record fee for a player from MLS Draft: Daryl Dike.
Speaking in an exclusive panel discussion alongside SAF Botafogo Sporting Director André Mazzuco at the TransferRoom Summit in Sao Paulo, Brazil, Orlando City's Technical Director Ricardo Moreira explained they used the ability to identify and contact specific clubs to meet their needs on TransferRoom.
Seeking playing time with MLS's season delayed in 2020 due to the COVID-19 pandemic, they used the Pitch feature to secure an initial loan deal to Barnsley, in which he went on a prolific scoring streak to fire them to the Championship play-offs.
And then they capitalised on his fine performances by pitching Dike for a permanent €8.6m transfer to another Championship side in West Bromwich Albion.
"We had identified England's second division and Germany's second division as places where Dike could find his best level," Moreira said in the video below.

"Then the TransferRoom platform helped us to find not just interested clubs, but specific clubs that we could talk to and move forward that interest."
FULL VIDEO: How Orlando City loaned and sold Daryl Dike
More than 3,000 deals have been done with the help of TransferRoom since the platform's inception in 2017.