The combined Expected Transfer Value (xTV) of a squad is not only an indicator of their decision makers' astute transfer business, but also the development of their talents and the evolution of their profile in the international transfer market.
Big seasons for Brighton, Benfica and Napoli
Brighton & Hove Albion recorded the highest league finish in their history in 2022-23, sixth in the Premier League, and came top of the world when it came to boosting the value of their squad.
They were closely followed by the new champions of Portugal and Italy, Benfica and Napoli, as all three clubs had super seasons on and off the pitch.
The combined Expected Transfer Value (xTV) of a squad is not only an indicator of their decision makers' astute transfer business, but also the development of their talents and the evolution of their profile in the international transfer market.
Q&A: Everything you need to know about Expected Transfer Value (xTV)
Brighton's total squad xTV, TransferRoom's data-led measure of players' market worth, rose by more than a quarter of a billion Euros, from €280m to €538m.
Brighton have earned a reputation for developing promising talent into household names, with two such examples among the top 10 by xTV increase of players starting the 2022-23 season below €10m.

Watch: David Weir on how Brighton master the transfer market
Moises Caicedo, signed for less than €5m from Ecuador's Independiente del Valle in 2021, had an xTV of €59m at the end of the season.
Japan international Kaoru Mitoma joined Brighton for just over €3m but over the course of 22/23 his xTV rose to €40m, putting him seventh in the list of sub-€10 players.
Teenage striker Evan Ferguson was in 11th place, after his xTV increased from €2.2m to €30m.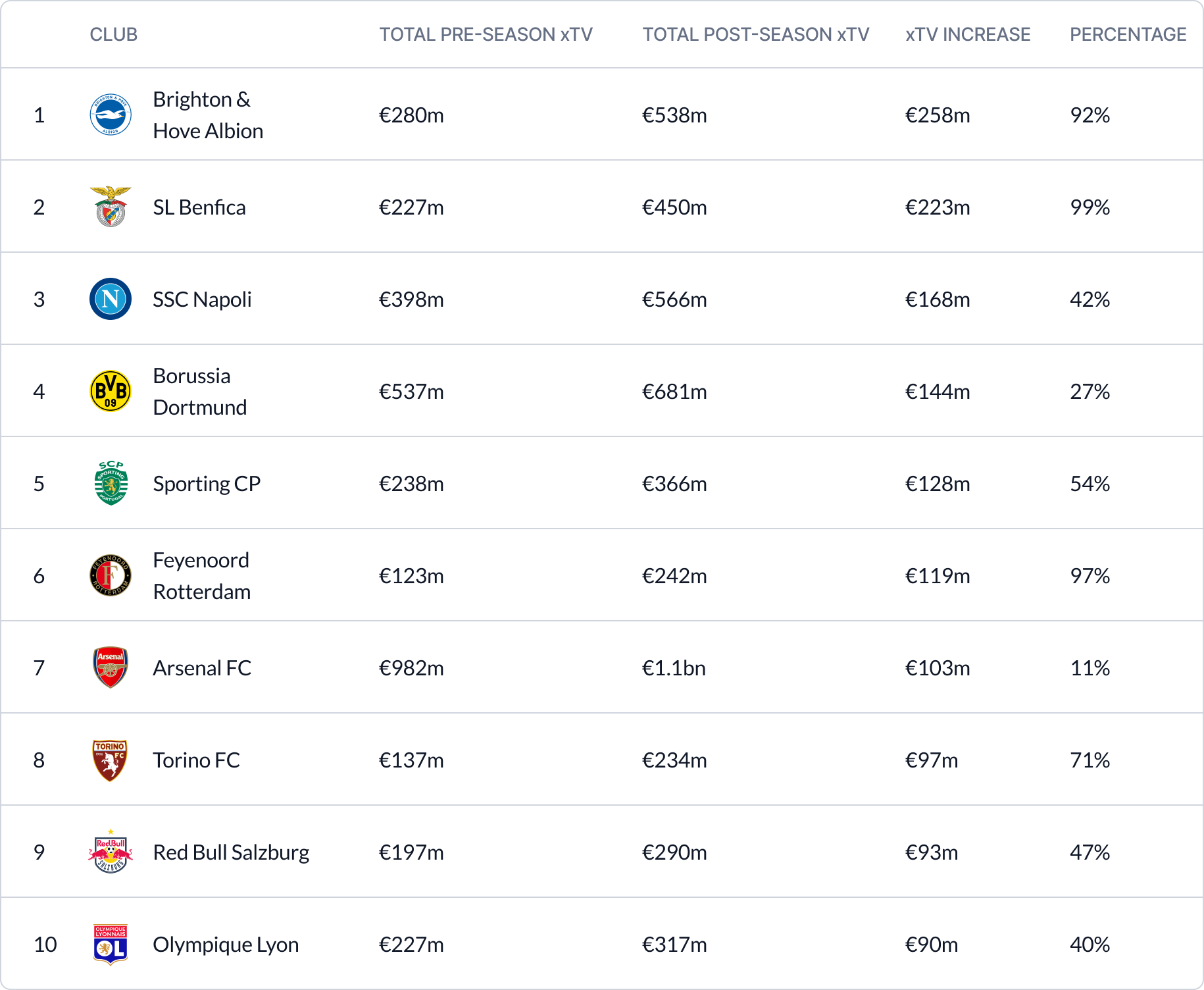 Benfica's squad value doubled to €450m, thanks in no small part to the ongoing productivity of their academy.
Centre-back Antonio Silva began the season as an 18-year-old with no first-team experience.
He finished it as a regular in the title-winning side, the youngest player ever to represent Portugal at the World Cup and went from €0 to €53m.
Striker Gonçalo Ramos had an xTV increase of €38m, boosted by his World Cup displays for Portugal.
And their other forward João Mário had the best goalscoring season of his career.
At 30 was the oldest player in the top 10 biggest increases in xTV from a starting value of less than €10m.
Napoli ended a title drought of more than 30 years in style. That success was reflected in a 40% increase in value of their squad, up to €566m, compared to over 90% for both Brighton and Benfica.
The total rise of €168m owed a lot to the success of Georgian winger Kvicha Khavaratskhelia.
He started with an xTV of €13m and ended it rated at €71m - an increase that put him third, behind Erling Haaland and Jude Bellingham, in the list of top 10 player xTV rises overall.
Bellingham's now former employers, Borussia Dortmund, were fourth in the squad xTV rise table.
But probably the other most notable members of the top 10 were Dutch club Feyenoord.
Like Benfica and Napoli, they won their national title, ending a six-year wait.
In the process, the xTV of their squad rose by €119m to €242m, putting them sixth in the overall list. Their starting squad value of €123m was the lowest in the top 10.
Under head coach Arne Slot, players like Mexico forward Santiago Gimenez thrived.
The summer 2022 signing's xTV grew from €5.6m to €27m.
Perhaps the most interesting player to be a part of Feyenoord's success was Quilindschy Hartman, who went from €470k to €17m, an increase of more than 3500%, after going from being a little-known youth product to first-choice left-back in the second half of the season.
One further observation - it was a good season for Dutch football overall in terms of xTV rises.
Ajax and PSV Eindhoven had the 11th and 12th-highest rises in squad xTV.
But Portugal, with Sporting in fifth place behind Benfica and Porto in 13th, should be regarded as the winners in this category.
Hercules show strength in the transfer market
It is easy to focus on title winners like Benfica, Napoli and Feyenoord, or records like Brighton's best-ever league finish.
But quietly elsewhere, other less-heralded clubs had significant rises in the xTV of their squads, showing astute transfer business and exponential development of their talents.
The list of squads with the highest percentage rise in xTV, from a starting point of at least €10m in total value, includes less familiar names and leagues.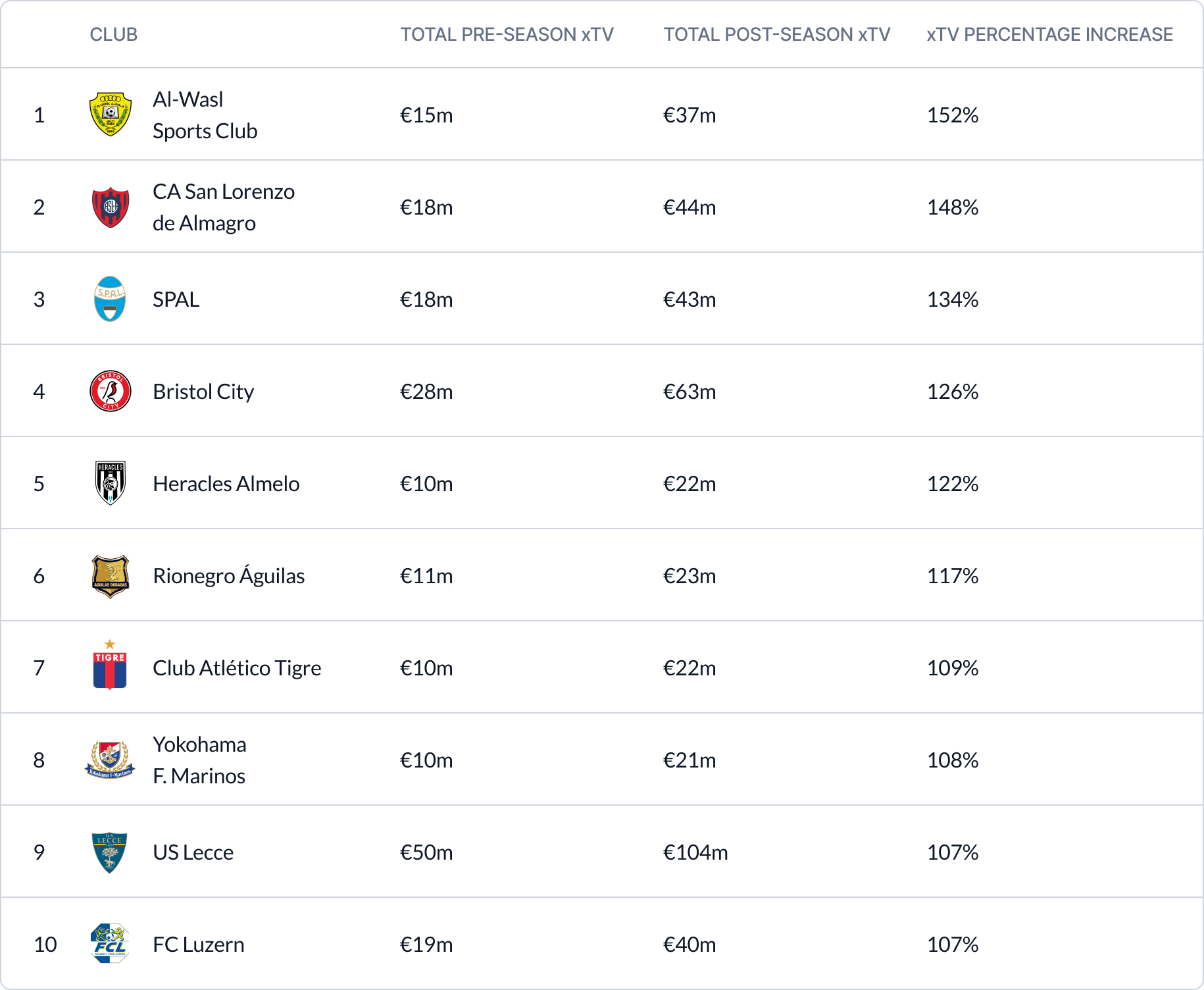 San Lorenzo de Almagro have a lower profile than Buenos Aires rivals River Plate and Boca Juniors, but the last two years have seen rapid improvement.
In 2022, they finished sixth in Argentina's Primera Division, up from 21st the previous year, and at the time of writing were in third in the first phase of the competition, ahead of Boca and other more famous names.
San Lorenzo's xTV of €44m was almost 150% higher than its starting point in July 2022, putting the club second in the table behind Al-Wasl of the United Arab Emirates.
Hercules Almelo have risen even faster than San Lorenzo.
The Dutch side achieved their second promotion in a row in 2022-23 to return to the Eredivisie. In the process, their squad value rose by nearly 122%, putting them fifth in the table.
In ninth position, with the highest overall xTV in this particular top 10, were Lecce.
The club from south Italy backed up their promotion from Serie B by finishing 16th in Serie A, five points clear of relegation.
Their team's xTV more than doubled to €104m. It will rise even further if the club can secure a third consecutive season in Italy's top division for the first time since the mid-2000s.
Related content
Revealed: The most valuable loan deals in 2022-23
Big names, breakout stars: Top Expected Transfer Value rises in 2022-23