I love how direct TransferRoom is. You can put an advert out saying, 'This is what we need,' and get pitches instantly. The interaction we have with the club right away is good too.
Assistant General Manager
,
Cavalry FC
Here come the Cavalry
The Calgary-based team, which sits top of the Canadian Premier League, now have direct access to decision-makers at more than 650 clubs from 100 leagues in over 60 countries on the platform.
Cavalry FC, like the CPL, are only four years old and while it can take a lifetime to build a network of clubs around the world, General Manager Tommy Wheeldon Jr and his Assistant Tofa Fakunle now have a huge contacts book at their fingertips.
Fakunle tells TransferRoom: "We have a track record of producing talent and we can show that now. As we go forward you will see a lot more stories come out of our club, out of the likes of Pacific, Forge and other clubs in the CPL too who have now sold players on.
"We have that track record and clubs around the world are starting to realise and recognise that and they want to tap into our market.
"The national team qualifying for the World Cup and the performances of Alphonso Davies (Bayern Munich) and Tajon Buchanan (Club Brugge) in Europe means there is more focus on Canadian football, and in turn the CPL now. And the talent pool is here."
Just this month, Cavalry FC sold 21-year-old homegrown midfielder Victor Loturi to Ross County in the Scottish Premier League.
Wheeldon Jr called it a "wonderful situation for all parties," adding: "The Canadian Premier League was designed to create opportunities for young Canadian players like Victor.
"For the club, it's a part of our football business to create a transfer fee that can be reinvested into the infrastructure that we're trying to build. And for the league, it just shows we're living by our words — a league for Canadians by Canadians creating great opportunities."
The partnership with TransferRoom highlights Cavalry FC's ambition to significantly expand their market access further and achieve success in the international transfer market, and not just from a selling point of view.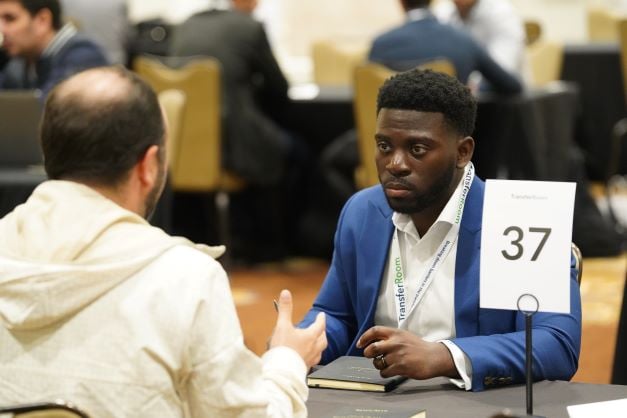 Fakunle, who attended the TransferRoom Americas Summit in Orlando (pictured) earlier this year, adds: "I love the data part of TransferRoom. It helps us to communicate to our players that, 'This is where you're at.'
"It also helps us to compare players that we are recruiting to see how they would do in our league based on numbers that they may have had in the first division in Sweden or Norway, etc. It's hugely beneficial that way.
"I love how direct TransferRoom is. You can put an advert out saying, 'This is what we need,' and get pitches instantly. The interaction we have with the club right away is good too."
Foreign restrictions
Each CPL team is allowed seven foreign players in their squads, of which four must be acquired through a centralised scouting pool, which contains around 50 international players aged 23 and under at any one time.
The pool was introduced to ensure the CPL does not become flooded with older international players that harm the development of local talent.
Indeed, six Canadians have to be named in the starting XI, and each team's Under-21 Canadians have to play at least 1,500 minutes per season combined.
It means young Canadians, like Loturi, are given game time and do not slip through the net.
Oliver Gage, Director of Football at the CPL, told TransferRoom in 2021: "There's loads of Canadian players here good enough to play elsewhere. They just need the opportunities.
"You can't always play these players at 18, 19, 20 when you are chasing wins in MLS, but they are good enough in the CPL to help you win. When they are ready they move upwards; that's good for the player, the buying club and the selling club."