Premier League clubs were, unsurprisingly, the biggest spenders of the 2022 Summer Window, but not all necessarily got value for money.
On the money
Much was said and written about Barcelona's summer transfer activity as the Spanish giants completely transformed their squad into the image of manager Xavi Hernández.
Barcelona increased the Expected Transfer Value (xTV) of the whole squad by €287m to €1.05bn during the course of the window, with the club's net gain from squad management coming in at €143.8m.
TransferRoom's detailed analysis looks at transfer expenditure and income, contract renewals and fluctuations in xTV, which provides the most credible, data-led measure of a player's value in the market.
It does not take into account wages or any particular short-term economic levers put in place to improve a club's financial means in the transfer market.
Barcelona's position was largely strengthened by landing two high-profile free agents: Franck Kessie, who left AC Milan, and Andreas Christensen, from Chelsea, are now worth a combined €108m in xTV.
In addition, Barcelona's ability to renew Ousmane Dembele's contract and avoid losing him on a free transfer has protected a major asset going forward. The French winger's xTV at the end of the 2021-22 season was €0. It is now €45m.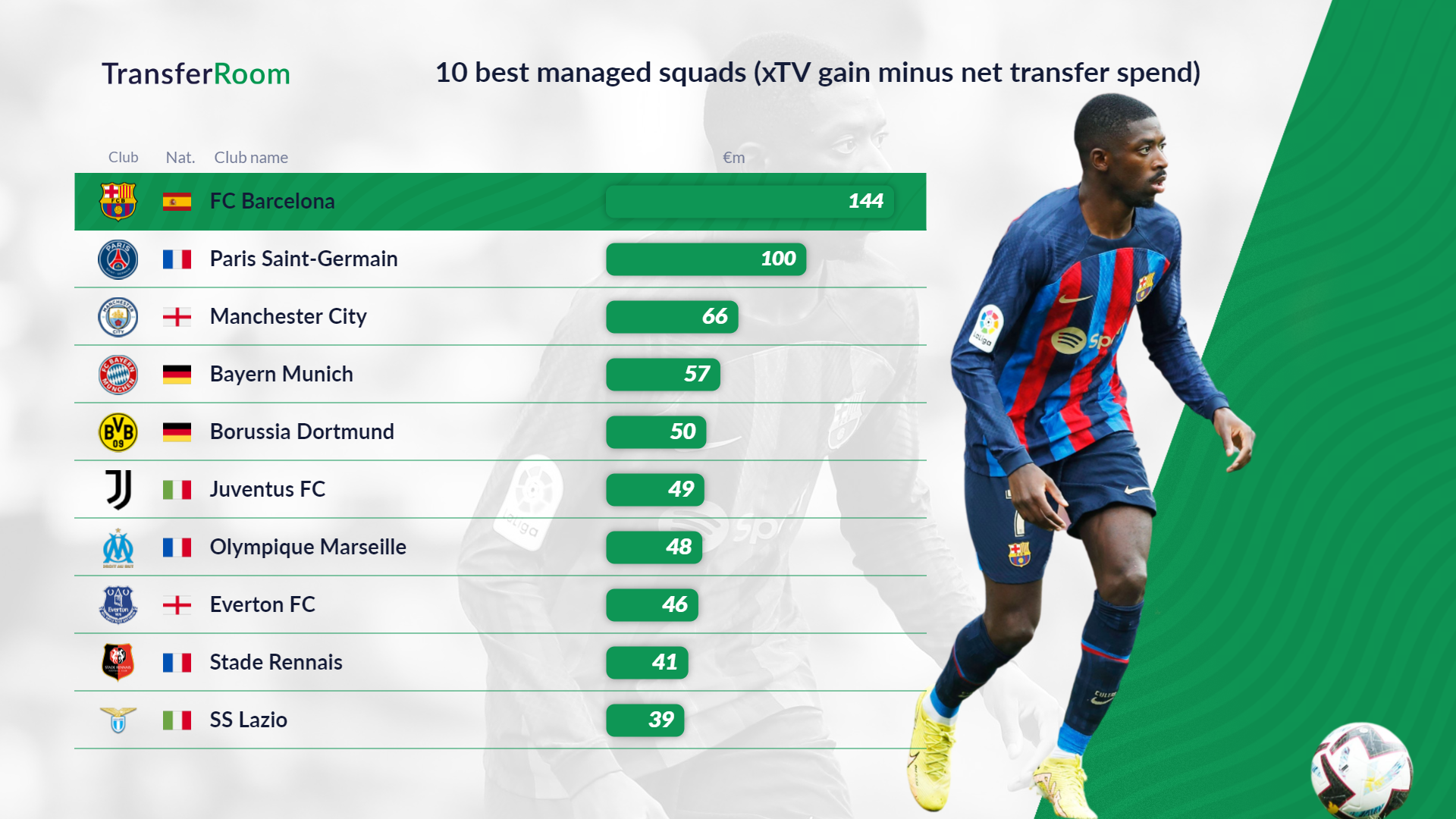 That squad management process - picking up free agents with significant sell-on value and renewing contracts - helped offset a net spend of around €120m over the summer window.
Robert Lewandowski was bought from Bayern Munich for around €45m, almost exactly his xTV at the time of transfer, while Barcelona slightly overpaid Leeds United for Raphinha (€58m compared with an xTV of €43m) and underpaid Sevilla FC for Jules Kounde (€50m compared with xTV of €60m).
Paris Saint-Germain, in the first transfer window under Sporting Director Luis Campos, had an overall squad management gain of €100m.
The club had a net spend of €100m but there were a number of shrewd signings, with the xTV of young talents like Nuno Mendes, Carlos Soler and Renato Sanches all having soared significantly since joining PSG.
Manchester City had a very different transfer window to what has been seen at the club over the past decade, to the extent they made a profit of around €60m. There were a number of high-profile outgoings - Gabriel Jesus and Oleksandr Zinchenko (both Arsenal) and Raheem Sterling (Chelsea) - while Southampton FC splashed out upwards of €40m on four of the club's talented young players, in Gavin Bazunu, Romeo Lavia, Sam Edozie and Juan Larios.
The summer business actually had the effect of lowering Manchester City's total squad value by around €34m to €1.11bn, but the club arguably made the signing of the summer, activating Erling Braut Haaland's release clause at Borussia Dortmund of €60m. The Norwegian striker's xTV is now almost double that figure.
Bayern and Dortmund may have lost their top strikers, but the two make the TransferRoom top five in terms of squad management gains, by €57m and €50m, respectively (see above table).
Both spent significantly in the window, but signing young players to long contracts meant the two increased the overall value of their squad, to €943m (Bayern) and €578m (Dortmund).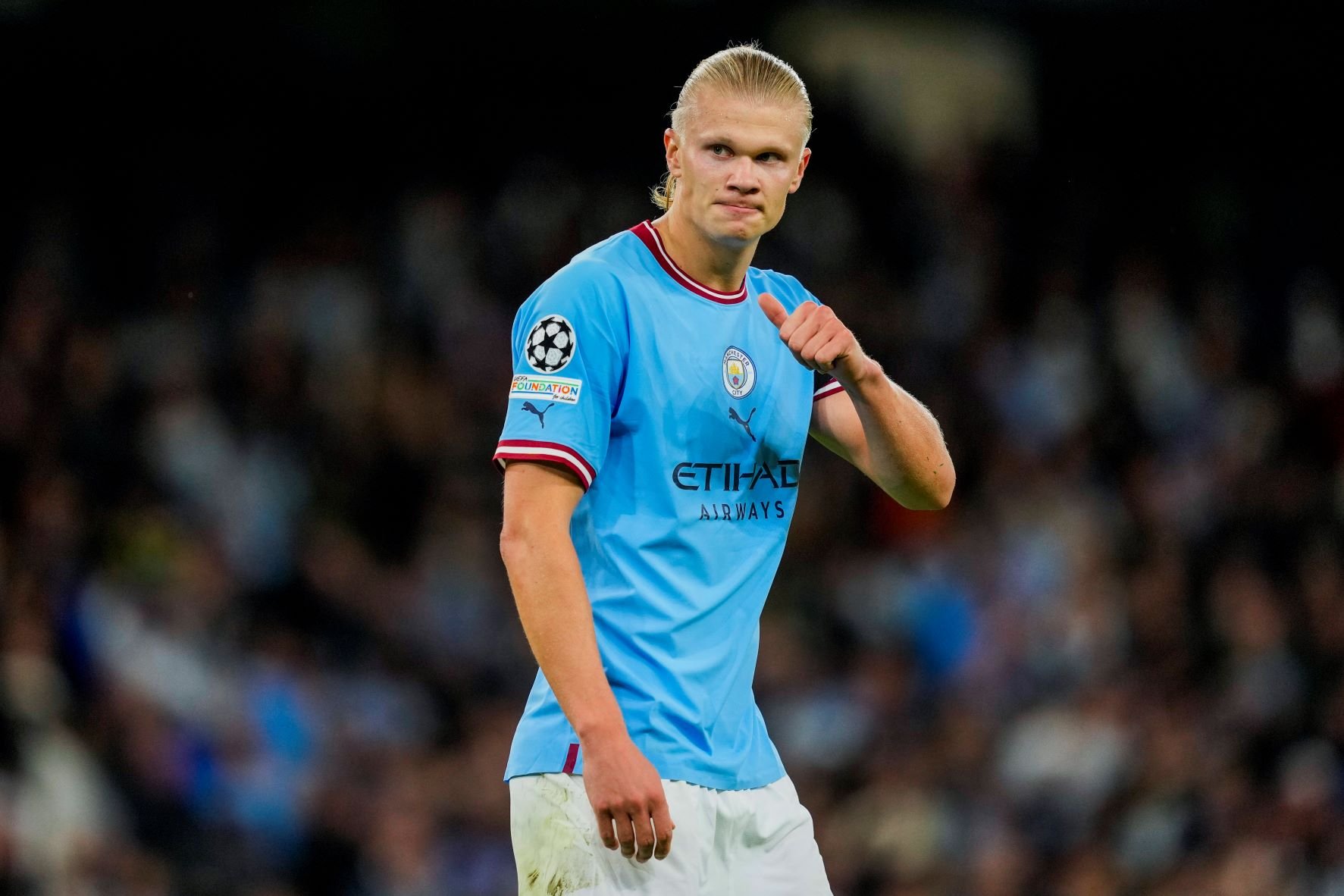 Transfer profit and a bargain for Haaland: Manchester City had a strong window
Paying over the odds
Premier League clubs were, unsurprisingly, the biggest spenders of the 2022 Summer Window, but not all necessarily got value for money, according to TransferRoom analysis.
Chelsea and Manchester United were the two biggest net spenders, but both overspent in terms of the underlying value of players that they bought in.
For example, Chelsea spent around €65m on Marc Cucurella from Brighton, whose xTV at the time of his move was €31m, while Manchester United pushed to €98m to buy Antony from Ajax. His xTV was actually €53m.
Manchester United also significantly overpaid the market value to sign Lisandro Martinez, also from Ajax, and Casemiro from Real Madrid.
Essentially Chelsea and Manchester United had net spends of €248m and €218m, respectively, to only see an xTV increase of €105m and €132m. That equates to an overall TransferRoom squad management loss of €143m for Chelsea and €86m for Manchester United.
Arsenal, too, significantly increased the value of their squad over the summer, but taking into account a net spend of €106m, driven by low transfer fees received, there was an overall squad management loss of €50.3m. That was slightly better than the €57m loss at OGC Nice, largely the result of selling Amine Gouri for considerably below his xTV of €54m.
High-volume trading gives squad boost
Nottingham Forest and US Cremonese, both promoted to their country's top leagues, made over 20 signings each during the window. Naturally that led to a considerable increase in the value of their squads, by 422% in Cremonese's case to €60.8m, with the top eight players in their squad by xTV all new signings.
At Forest, the rise was 326% to €303.6m, with eight of their nine highest valued players by xTV all new signings.