We have found that they actually end up being more successful than players not signed after major tournaments, but their higher-level output comes at a big price.
Scouting on the big stage
Whenever a major international tournament comes around, decision-makers from clubs all over the globe will monitor the matches closely for potential signings to show what they are made of on the biggest stage.
But are players signed off the back of a strong performance in an international tournament overpriced or do they actually end up proving good value?
The myth is that post-international tournament signings are costly flops.
To find out, we have been analysing the data of 253 post-tournament transfers and 3,280 other transfers from 1 August 2014 onwards, all for for a fee, from all international competitions since 2014, which includes any World cup, Asian Cup, AFCON, Copa America, CONCACAF Gold Cup and European Championships.
We have found that they actually end up being more successful than players not signed after major tournaments, but their higher-level output comes at a big price.
Here's why.


More goals, assists and appearances
Of all players transferred for a fee in the six months after a tournament in which they played at least 180 minutes in the competition for their country, compared to any other players bought for a fee by one of those clubs who has made a post-international tournament signing, they average greater returns for their new team.
Players bought after international tournaments on average:
Play 56% of minutes, compared to 46% for other signings (+20%)

Play 3,308 mins in the next two seasons, v 2,729 (+21%)

Post-international tournament signings also convert this into more goals and assists:
Attackers score 5% more, averaging 0.39 goals per 90 minutes compared to 0.37 for others

Attacking midfielders/wingers assist 14% more, 0.21 assists per 90 compared to 0.18 for other transfers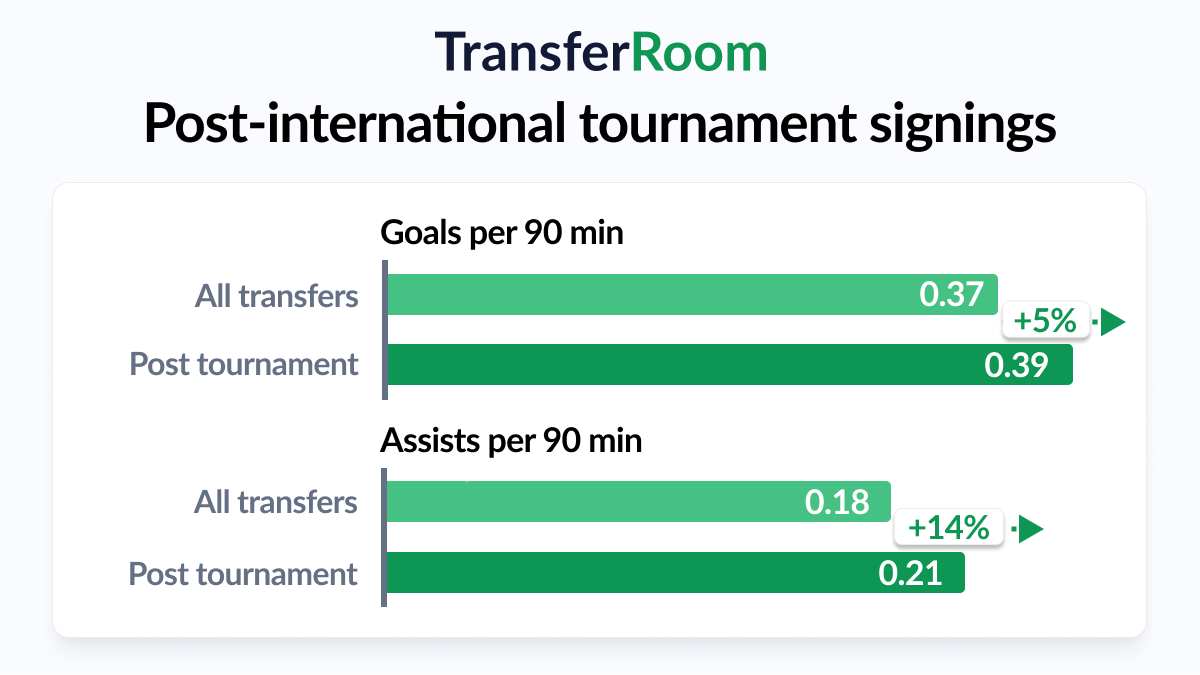 So the statistics for their performances suggest signing international tournament stars is a no-brainer, which is perhaps no surprise given the level they are playing at on the global stage.

But our data shows that the return on investment suggests otherwise, with a big premium typically placed on post-international tournament signings that isn't reflected enough with the improvement in output on the pitch.

Players bought following an international tournament are much more expensive:
Average fee paid for post-international tournament signings: €12.2m




Up 54% on average fee for other signings for a fee, €7.9m.

We estimate the premium on post-international competition signings is between 5-30%, relative to their output level.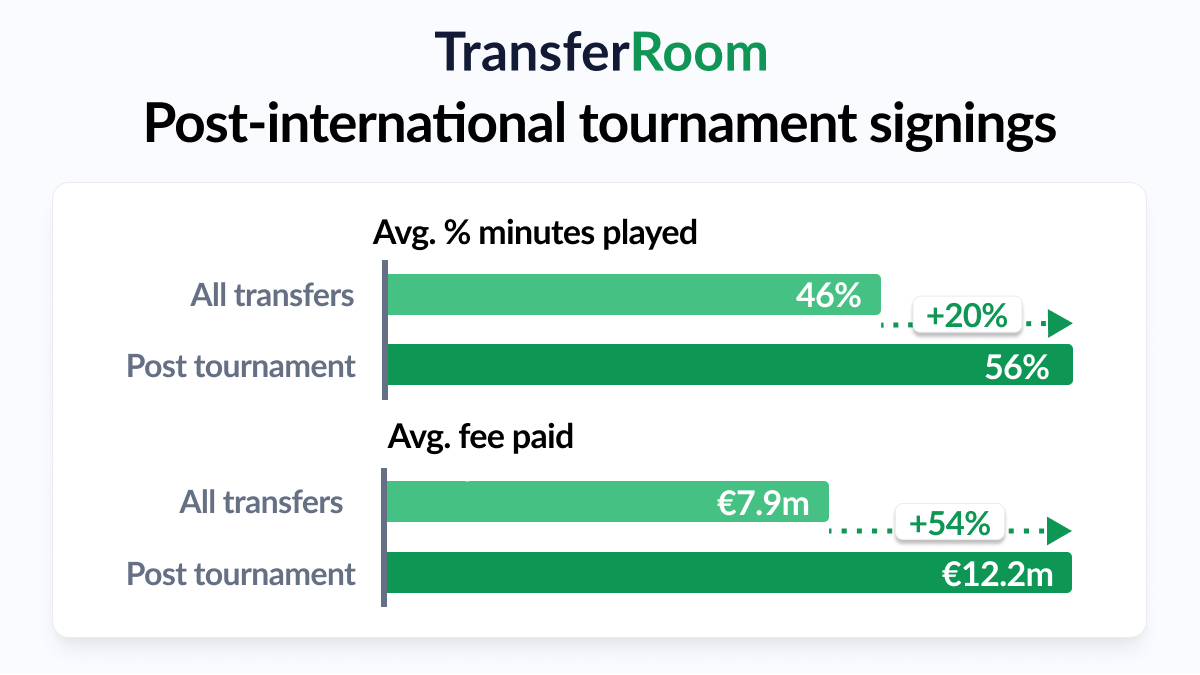 Therefore players bought after international tournaments are typically more expensive, and the price rise outweighs the productivity benefit, so knowing how to negotiate as a buying club is crucial to reduce that premium.


Do clubs make profit on international signings?
Even if clubs typically pay a premium for these international stars, can they still end up making a profit in the long run?
We also looked specifically at cases where a player was bought, and then resold within three years. This included 47 post-tournament signings and 1,299 others.
The data shows that if you buy a player and then resell him within three years, the average profit is +34%.
But among players bought immediately after international tournaments, clubs on average make a loss of 6%. This backs up the conclusion that these players are more risky economic investments.