Expected Transfer Value (xTV)
The benchmarking approach used by xTV ensures values are realistic and grounded in how the market actually works. Being able to compare a player's value against historical transfer fees helps buying and selling clubs agree a fair fee and smooths the transfer process.
Head of Data Intelligence
,
TransferRoom
While as many as 40 players have been linked to the Magpies in the opening weeks of January, the early indication is sensible signings: England international right back Kieran Trippier has returned to the Premier League from Atletico Madrid and New Zealand striker Chris Wood has joined from relegation rivals Burnley FC.
But have they had to pay a premium for their new sudden wealth? A look into TransferRoom's Expected Transfer Value calculations makes for interesting reading.
Right back is right on the money
"We certainly don't have a blank cheque. We are trying to be smart to bring in the right players at the right price."
That was the message to the media from Newcastle United Manager Eddie Howe, who is in the midst of a busy window with Head of Recruitment Steve Nickson and transfer consultant Nicky Hammond.
Money is not a problem for Saudi Arabia's Public Investment Fund, which owns 80% of Newcastle and is worth hundreds of billions of pounds, but the Trippier signing suggests they will be prudent spenders.
Newcastle paid £12m (€14.4m) to sign Trippier, in line with TransferRoom's xTV of €15m.
A LaLiga winner last season, Trippier has been a key player for Diego Simeone's side, being involved in around 15% of their expected goals when on the pitch thanks to his expert delivery from the right side.
Other market calculations valued Trippier at €20m, the same price Atletico paid two-and-a-half-years ago, despite the 31-year-old now being beyond his peak.
Such use traditional mathematical models to assign a value to each attribute of a player, and aggregate them to find their total value. Some don't even do that, relying instead on rumours or subjective opinion.
TransferRoom's xTV incorporates elements of this, but also relies heavily on an assessment of the fees paid for "similar" players, which reflects closely how clubs make buying/selling pricing decisions and gives the values a more intuitive feel.
For an xTV to be reliable and useful to decision-makers, it must take account of historic deals for players who had similar attributes and were in similar situations at the time.
Daniel Blades, Head of Data Intelligence at TransferRoom, explains: "The benchmarking approach used by xTV ensures values are realistic and grounded in how the market actually works. Being able to compare a player's value against historical transfer fees helps buying and selling clubs agree a fair fee and smooths the transfer process."
To get a €15m valuation of Trippier, TransferRoom benchmarked him against his own transfer fee when Tottenham sold him to Atletico in 2019 (€22m), as well as deals involving right backs of a similar age and profile in recent seasons, notably Aleix Vidal and Daniel Wass.
Vidal moved from Barcelona to Sevilla for €9.3m in 2018, when aged 28, the same season as Wass, then 29, moved from Celta Vigo to Valencia for €6m.
Interestingly, Wass has been heavily linked with replacing Trippier at Atletico.
Trippier has arguably improved his defensive side of the game since working with Simeone, while Atletico, as one of Europe's leading clubs, have a reasonable amount of selling power, resulting in TransferRoom's xTV for the player rounding out at €15m.
A figure Howe and Co seem to agree on.
An expensive piece of Wood
At €25m, Wood becomes the most expensive 30-year-old to be bought by an English club.
It was a deal that raised some eyebrows - TransferRoom had Wood valued at €10.2m, which itself is double what other models calculated him at - but there are extenuating circumstances at play.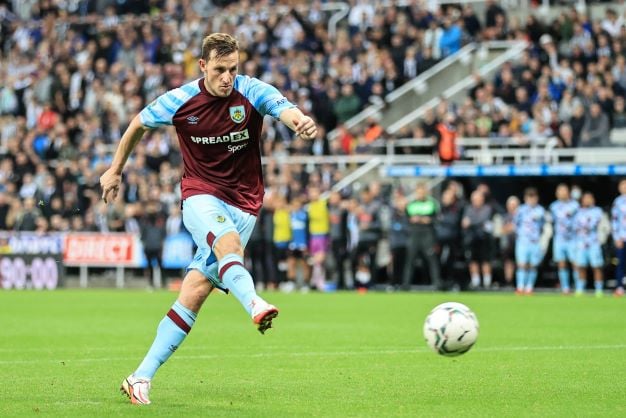 Newcastle United will be hoping Wood can fire the club to Premier League safety
Bereft of goals, and having lost their main striker Callum Wilson to injury, Newcastle were forced into the market and thus took the decision to pay the New Zealand international's release clause.
Wood has only scored three goals this season (of Burnley's total of 16 in 17 games). Overpriced maybe, but he is a seasoned Premier League striker, with a good fitness record who has reached double figures in each of the last four seasons.
And, significantly, he weakens a rival, with Burnley only ahead of Newcastle on goal difference in the relegation zone. Indeed, Wood has around a 35% expected goal involvement for Burnley when on the pitch. His absence, therefore, will be sorely felt.
There are plenty of benchmarks for Wood that helped TransferRoom calculate his xTV, albeit few that get close to the eventual €25m paid in pure economic terms.
The one that ticked the most similar boxes was actually another Burnley sale, of Sam Vokes to Stoke City of the Championship for €8m back in January 2019.
One interesting transfer to reflect on here was Salomon Rondon's €18.3m move from West Bromwich Albion to Dalian Professional in the Chinese Super League in July 2019.
The Venezuelan striker was 29 when he moved to the CSL, at a time when Chinese clubs had huge financial resources and where attracting a number of foreign players with big transfer fees and high wages.
So while Wood's move may have skewed analysts' calculations, it's a market reminder that the battle for survival, the need for a goalscorer and the ability to get one over your relegation rivals will always inflate certain transfers.