The meeting absolutely gave us the opportunity to sign Tobias. That was the extra information that convinced us to make the move happen again and push a little bit harder because of the very good feedback from the guys at Odds.
Head of Scouting
,
Sparta Rotterdam
Sparta hopes revived by face-to-face talks
Sparta Rotterdam had done all the hard work scouting and analysing Tobias Lauritsen, lining up Odds BK's striker for a summer switch to the Eredivisie.
But they weren't the only club tracking the Norwegian, and fearing they were losing ground in the chase, secured a meeting with executives from Odds at a TransferRoom Summit in Madrid.
Jesper Gudde, Head of Scouting at Sparta Rotterdam, tells TransferRoom: "We had done the data and video analysis on Tobias, but we had a feeling that we were losing the deal or at least there was big competition with other clubs to sign him up.
"It was becoming a very difficult deal. Then I had a meeting with Odds in Madrid specifically to talk about him, to get some more information about the player, what he was like, his strengths, his personality. The off-the-pitch stuff. It was a priority for us."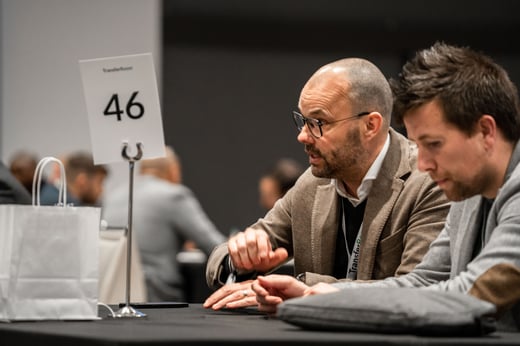 Sparta Technical Director Gerard Nijkamp (left) and Gudde at the TransferRoom Summit
Get ahead of the competition by planning ahead
Clubs hold a series of one-to-one meetings with fellow decision-makers at TransferRoom Summits, each one lasting just 15 minutes.
Even though the Summit takes place for many clubs outside of their Transfer Window, those fast-paced talks ensure plans are well-advanced for when business can be done.
And for Sparta that real-time information and direct access to decision-makers helped convince the club to move fast for Lauritsen (main picture, left, with a fellow signing from Odds, Joshua Kitolano).
Gudde adds: "The meeting absolutely gave us the opportunity to sign Tobias. That was the extra information that convinced us to make the move happen again and push a little bit harder because of the very good feedback from the guys at Odds. It helped us a lot."
Related Content
How Sparta Rotterdam found instant success on TransferRoom
Main picture credit: Sparta Rotterdam