Within the first week of starting at Servette, I was dealing with various player issues and contract negotiations, there was still the Covid situation. Straight away, I said to myself, 'ok Philippe, so this is the real deal'.
Sporting Director
,
Servette FC
The next chapter
Philippe Senderos spent close to two decades heading away balls and marshalling defences across Europe and USA.
Now he finds himself in another battle - recruiting players, dealing with contract renewals and establishing a sporting framework at Servette FC, the cash-strapped Geneva club where he started out as a teenager.
Senderos hung up his boots in December 2019, calling time on a playing career that began with the Servette academy when he was just five years old, and took in clubs in England - most notably Arsenal where he won an FA Cup and starred in the club's run to the 2006 UEFA Champions League final - Italy, Spain and USA before, fittingly, ending up back in Switzerland at lower league club FC Chiasso.
Breaking through at Arsenal as an 18-year-old, Senderos was praised by Manager Arsene Wenger for his intelligence and maturity, being a student of the game, so it was no surprise that just a month after his retirement he was back in a classroom.
At the beginning of 2020, Senderos enrolled in a Sporting Director course run by the RFEF, the Spanish FA. Over the next six months he would make weekly trips to Madrid to study for the qualifications that would result in an offer from Servette "to return home" and start the next chapter of his career.
A year on, Servette, with one of the smallest budgets in the Swiss Super League, are third, the same position they finished the 2020-21 season. Hopes of European football were ended in July by Molde in the qualification round of the UEFA Europa Conference League.
Reflecting on his first season as a Sporting Director, Senderos tells TransferRoom: "It was a challenge I have to admit because I still felt fresh from being a player. It was important to separate myself from that and to put a little bit of distance between me and the players. It was not easy because I knew the players, the staff and it has taken a bit of getting used to.
"My job is to look at the bigger picture of the club and how to develop it."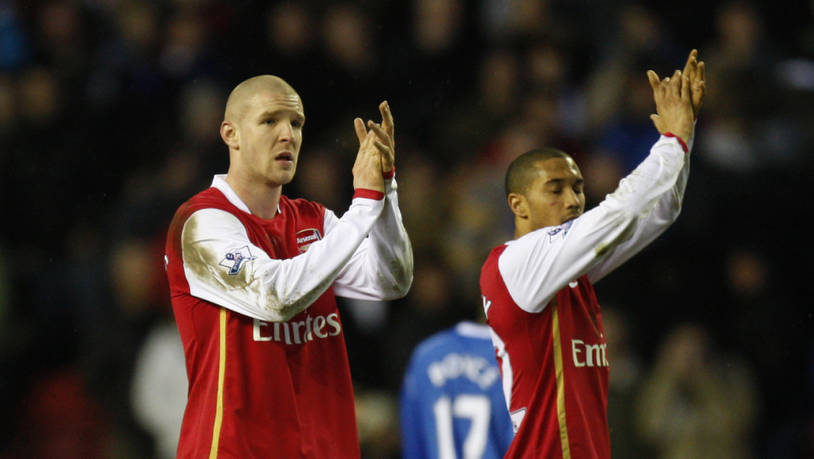 Friends reunited: Senderos is Servette's Sporting Director while former Arsenal teammate Clichy is on the playing staff
As well as taking on a new challenge off the pitch, it's been a period of self-reflection for Senderos, who at 36 is the same age as current Servette full back Gael Clichy, a close friend of his from their time together at Arsenal.
"What have I learned about myself this past year? That I won't be playing anymore," he jokes. "But there is another side to football that I'm learning about every day and it is fascinating to see how many things go on in the background and what it takes to run a football club."
Putting theory into practice
What is needed to become a Sporting Director was taught in Madrid, but Senderos is doing the real learning every day in Geneva.
"The course was for six months and it was a great, flexible way to get into the next stage of my career," he says. "It was a positive transition to start doing something straight away after retiring, and a very good opportunity to network with a lot of professionals, coaches, Sporting Directors, active and ex-players.
"I learned a lot from that course, but when I got into the job at Servette that is when I really learned how to deal with different situations."
Senderos continues: "I had the theory and even in six months you don't get everything, but you get the basics. Then you need to have your own ideas of how you want a club to be run and you need those ideas to fit with your environment. One of things in my favour was that I know the environment of Geneva, I know what is required to play for the club at 17 and then I just have to put in my philosophy.
"This takes time and I'm still learning how to do that. Within the first week of starting at Servette, I was dealing with various player issues and contract negotiations, there was still the Covid situation. Straight away, I said to myself, 'ok Philippe, so this is the real deal'."
Learning from the best
The studying didn't stop there. In March of this year, Senderos enrolled on the FIFA Diploma in Club Management, a newly-established course involving club executives and former internationals from around the world, such as Fabio Cannavaro, Carlos Bocanegra, Juan Pablo Angel and Nuno Gomes.
Over the ensuing months, ideas and views have been frequently exchanged on club operations and stadium management, finance, marketing and communications, sporting and youth academies, governance and legal matters, and leadership and negotiation.
Graduation will come in January 2022 after each course participant has devised a strategic plan for their club.
It was on that course that Senderos and the other students received a presentation from Victor Orta, Leeds United's Director of Football, who has been, and continues to be, a close confidant of Senderos.
"As mentors go, I've been fortunate to have had some great managers over the years and I'm always speaking to people in jobs like mine at clubs all over, but I would definitely mention Victor Orta," Senderos says.
"I've known him for a long time and he has always advised me over my career, not officially, but just in different decisions I've taken. In this Sporting Director role he is one of the very best to do it. And he learned [at Sevilla] from Monchi, who is probably the very best. So I've always had open and strong conversations with Victor. His advice and guidance have been so helpful.
"On the [Madrid] course, I met Pablo Longoria [now President of Olympique Marseille] and I am in touch with him regularly too. It's important that you learn from other people's experiences and try to implement that in your environment."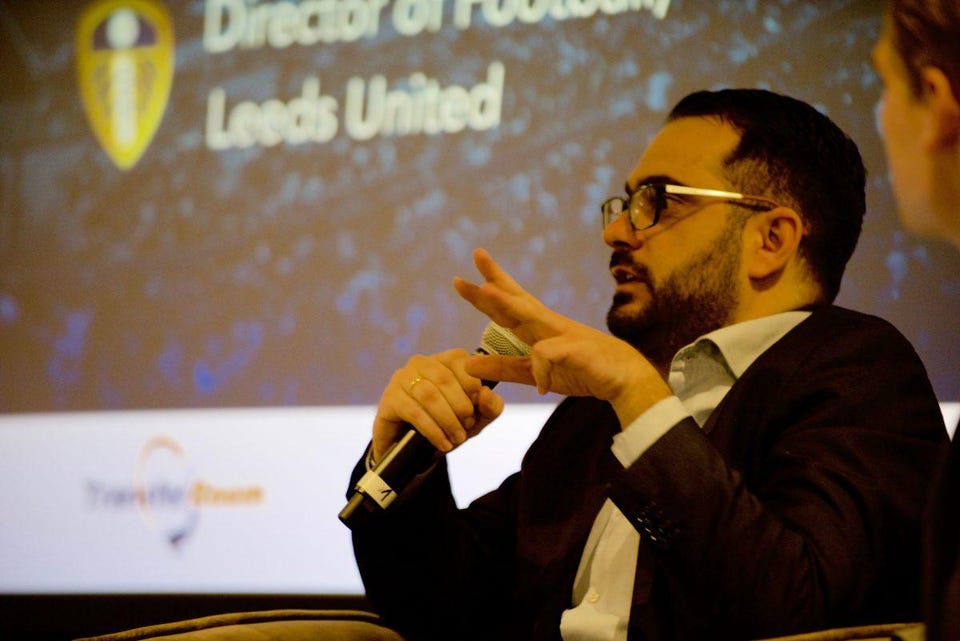 "One of the very best": Victor Orta has offered help and guidance to Senderos
With a knack for languages - Senderos speaks French, Spanish, English, German, Italian and Serbian - it's no surprise that communication forms a core part of the Swiss' developing leadership style.
"I like to use my experience as a player, and make sure I'm speaking to the players openly and clearly, just how I would have liked when I was playing. I like to talk clearly, it has always been one of my strengths. When I have something to say, I say it respectfully and say it only when it's necessary.
"I can speak six languages, and that's very important, especially in recruiting, to get as close as possible to the player. An important part of my job is to communicate, and to be able to do it in their mother tongue makes players and people around them more comfortable for sure."
Building for the future
While still finding his feet and developing as a football executive, Senderos has a clear vision for Servette, historically one of Switzerland's most successful clubs, but one without a league title since 1999, incidentally the last time a club from the French-speaking part of the country were champions.
Senderos says: "The club is still developing. Even though we have a rich history and we are the third most successful club in Switzerland, we have not done anything in more than 20 years. For us it is important to establish a strong basis and build something for the future."
To achieve that, Senderos' focus is now firmly on the Servette academy, where he first stepped foot some three decades earlier.
He explains: "All the new players that come here are out of contract. This year we don't even have any loans. Recruitment is very hard. We try to continue with the same team and add small pieces each window that we were missing from the year before.
"So the main target is to continue developing our academy players. A big part of my job is to have a real link between the first team and the academy and provide as many players as possible to the first team. We want the players to have this pathway, to have opportunities in the first team, like I did, and then go on to bigger things from Servette.
"This is the target for everyone here at the club. We have some successful young players that we need to continue developing."
True to his word, Senderos and the Servette coaching staff promoted three academy players this summer: defenders Roggerio Nyakossi (17) and Malik Sawadogo (18) and midfielder Niels Pedat (20).
All have made first team appearances in the opening rounds of the 2021-22 season.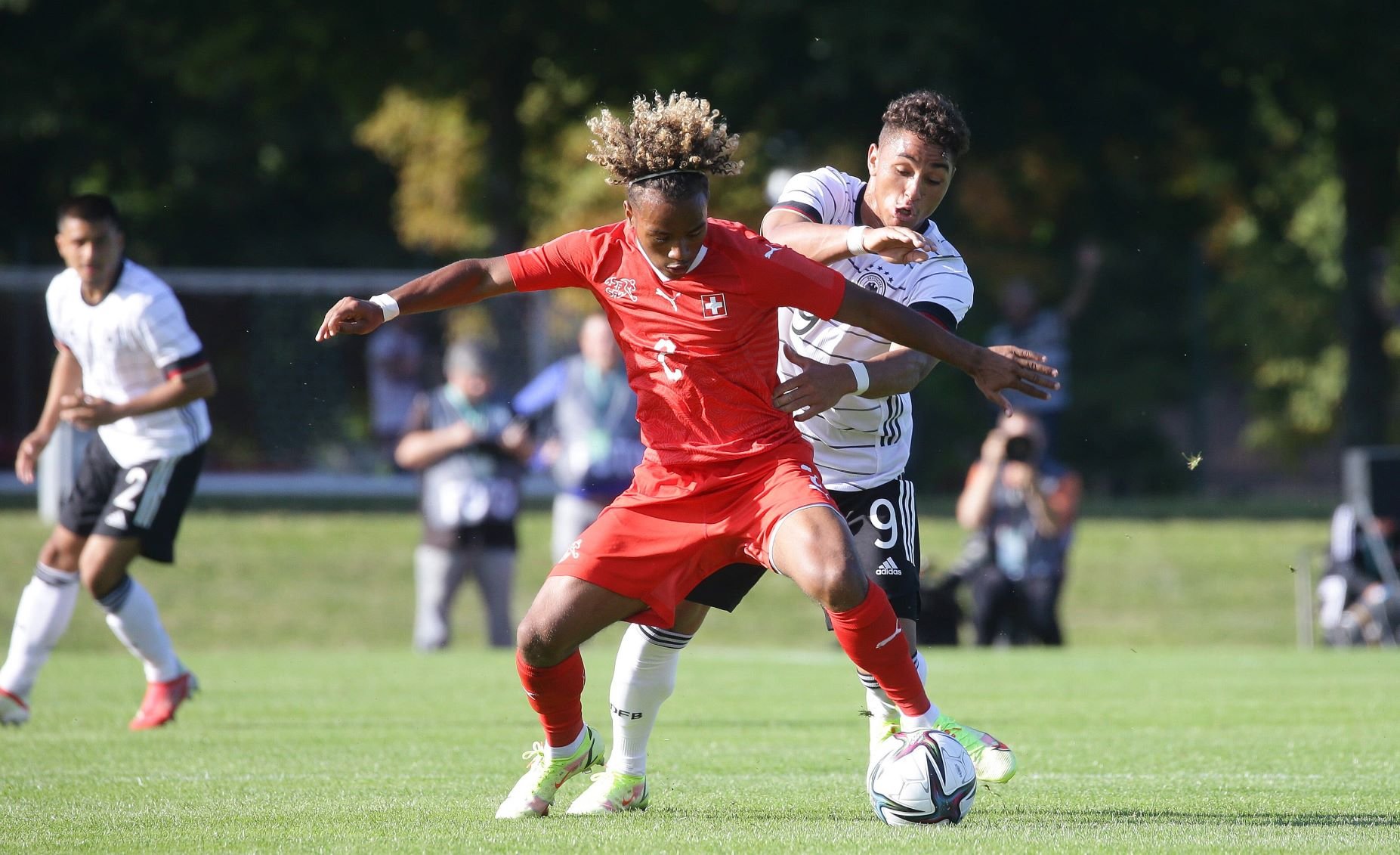 Switzerland youth international Malik Sawadogo, one of three academy players promoted to the Servette first team this season
Senderos continues: "In the last few [transfer] windows we have not had the financial strength to go and purchase players. At the moment my job is not to do trading. It's to develop the club, develop young players and provide them with a pathway. It's a good opportunity in Switzerland with a small league of 10 teams to see young talent, develop them and make sure the club is stable in the top division."
Building a wider network can help Senderos and Servette reach that goal, and that's where TransferRoom comes into play.
He says: "The club has gained a number of contacts on TransferRoom, and I have increased my network with people I have not previously had exposure to. That is massive for a club like Servette and a real positive for our future."
The pressures of overseeing an organisation and building a football structure are different to those faced on the pitch, and Senderos, who made over 300 club appearances and another 50 at international level, playing at three FIFA World Cups, admits he is still acclimatising to the role.
"I always liked to feel pressure as a player. I could stand there and head and kick balls away, but as a Sporting Director I don't have a way of relieving that pressure now," he explains. "The fact the cards are not in your hands in terms of what happens on the pitch as a Sporting Director means the pressure is very different.
"I'm learning how to deal with that all the time."
Philippe Senderos. Always learning.
Main picture credit: Servette FC