In football there's never a question of right and wrong. We have a philosophy and we have our way of working and we are convinced we will be successful with it. So the profile here is really clear: young, hungry, high-potential. You will see it in every transfer... We have to create a culture where Wolfsburg is the perfect place for the next stage of their career.
Sporting Director
,
VfL Wolfsburg
TransferRoom: Marcel, you played over 300 times for VfL Wolfsburg, won the Bundesliga and the DFB Pokal. Does it help you in your job when times are tough to have that special connection with the club and the fans?
Marcel Schäfer: "I think that is the reason I got the opportunity to be the Sporting Director [in 2018]. They know me as a person, how I work, that I'm willing to learn and invest a lot of time to be successful. We have learned that from each other due to our collaboration for over 10 years when I was a player. If a club is struggling it is always very important to have people who have a huge identification with the club, who know the DNA. After 10 years I know exactly the special structure here, which as a 100% subsidiary of Volkswagen, is unique in Germany."
TR: You mention the club's DNA there. What is the football philosophy of Wolfsburg?
MS: "There are two key words here in this city that you hear all the time: work and development. We want to embody the same values as our parent company, Volkswagen. So we need to work hard and develop talent.
"We need to ensure we put in place the best infrastructure and experts around our players. If you want to develop, you have to create perfect circumstances for everyone. We like to work with young, hungry and high potential players to help them achieve their goals, and support them for a certain time in their career.
"Regardless of where you finish in the league [Wolfsburg qualified for this season's UEFA Champions League group stage], the philosophy and the DNA should always be the same. It cannot change with a new coach or management team. For sure, we need to bring our ideas, but the DNA is given by the club."
TR: So is there an open conversation with each new signing, that this could be a short-term marriage?
MS: "Football is a business. The most important thing is that if a player has a chance to go to a top club and if for the club it is a good solution, sporting wise and economic wise, we can create win-win situations. And if, to be honest, we sell a player I'm not afraid. I'm more proud because we can confirm our philosophy to be a club between smaller and top clubs. And that way, we get into the focus of other top players. They say, 'Wolfsburg: perfect infrastructure, very very good team around the team and they give young players as many appearances as possible at a very high level, and even bring players to the top level.'
"So if we sell a player in the future it is more that we can confirm this philosophy. That is a huge chance for us. But of course there's a business side and if we have a top player, we need to get a top price for him."
TR: The Bundesliga is renowned for its commitment to giving young players minutes in the first team. Why is that the way forward for Wolfsburg?
MS: "I think it is the most realistic way for VfL Wolfsburg to be successful because here we have a small city of 120,000 people, of which over 60,000 work for Volkswagen. VW is one of the companies that develops a lot employees in the whole of Germany. If we talk about embodying the same values we need to do the same, and we want to do the same. We are really proud of that relationship with VW. First of all if you talk about development you need to do it with young players, because we can develop them the most."
TR: So that explains your recruitment policy last summer: buying young talented players like Sebastiaan Bornauw (22), Micky van de Ven (20), Aster Vranckx (19), and the Nmecha brothers, Felix (21) and Lukas (23)?
MS: "In football there's never a question of right and wrong. We have a philosophy and we have our way of working and we are convinced we will be successful with it. So the profile here is really clear: young, hungry, high-potential. You will see it in every transfer. We want young players who definitely make the next step in their career with the move to VfL Wolfsburg. They then need to invest a lot of time to make the next step with us. We have to create a culture where Wolfsburg is the perfect place for the next stage of their career."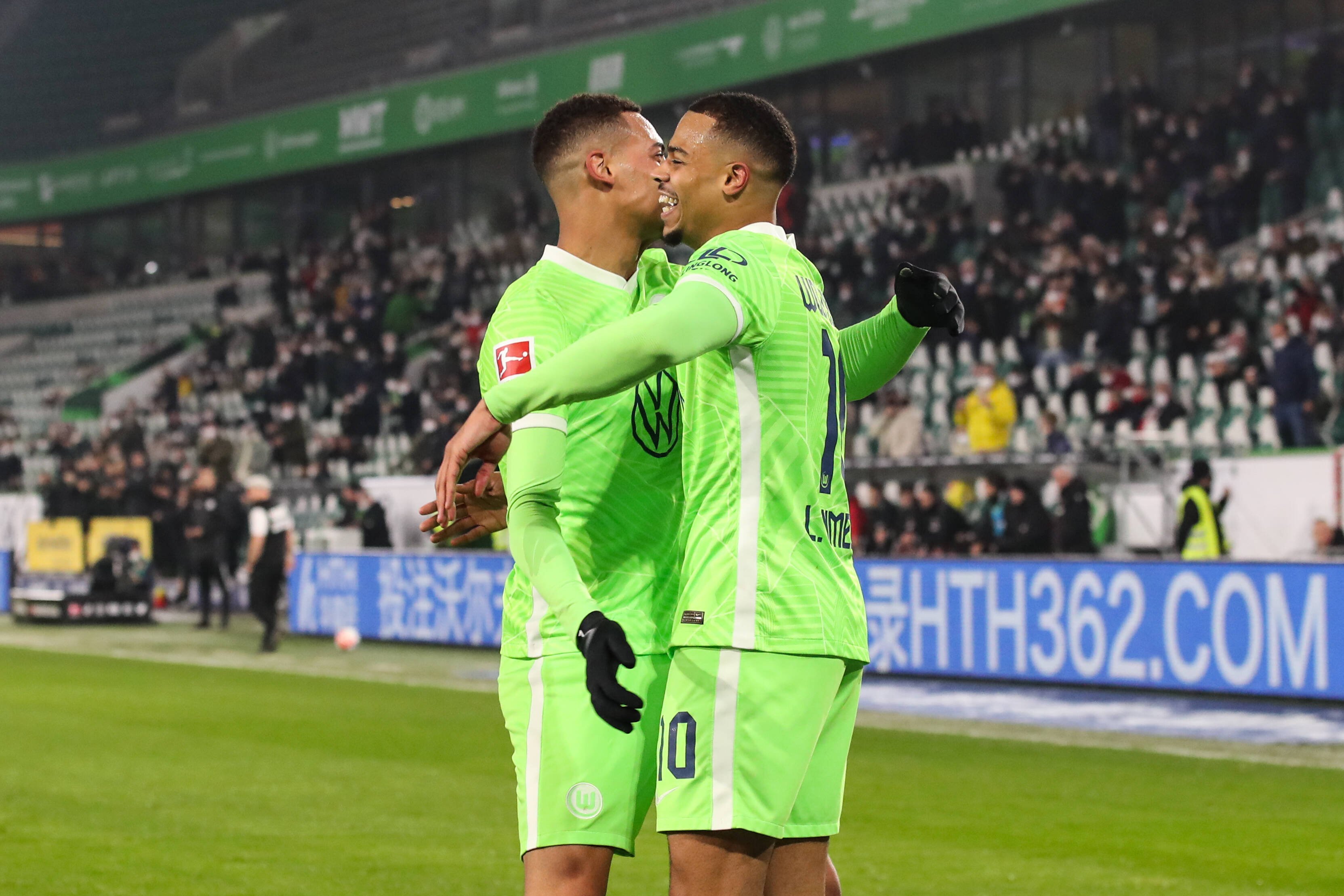 Young, hungry, high-potential: the Nmecha brothers, Felix (l) and Lukas (r) fit the VfL Wolfsburg profile
TR: But there's always competition for the best young talent, particular from clubs with endless scouting resources. How do you overcome that challenge?
MS: "We have to be very early because, as you say, everyone worldwide in the top leagues has really good scouting departments and networks in Europe, and worldwide. So you need to be fast, have good scouts who know your DNA and profile.
"A lot of top clubs say they want to sign young players and then work with loan options. And we all know it is not easy for a young player to say no to Chelsea, Manchester City, Bayern Munich, for example. So what we have to do is convince the players that Wolfsburg is a good club to develop, that we have the perfect infrastructure, where we have a culture that young players can make mistakes and still play because mistakes are a part of development. Young players have to make mistakes. In fact I prefer to call it experience. They have to make experiences to develop step by step. And we have a club where you can make some experiences. Other clubs where the ambition is way higher than ours, it is not so easy if you make too many mistakes."
TR: Wolfsburg is quite a small, working-class city. Does its profile limit the type of players you can recruit?
MS: "Geographically, no, because you saw in the last transfer window that we are totally open to different markets. However, the most important factor is that they fit almost 100% to our profile, that their mentality is a good one and that they are really willing to identify with our special location.
"Sometimes you need to be careful because if a player grew up in London or Rome or Paris, it is a big step to Wolfsburg. It's a different way of life. So before a player signs for VfL Wolfsburg we always try to not only convince him about our club, but we give him a very honest and transparent feeling about our city. If a player wants to develop and reach his maximum level, he needs to feel comfortable outside of the soccer pitch. And that is really important to what we want to do.
"Sometimes if a player says 'I think it is not the right place for me' then that is totally fine for us because we want to avoid exactly these situations further down the line. And we don't want to convince a player to play for Wolfsburg for 15 years. That is not our philosophy. That is why we are convinced that for a player who wants to develop for two, three or four years, VfL Wolfsburg is a perfect spot. We don't have so much media attention like in other big cities, the pressure is not as high here and that is sometimes very good for a young player to develop."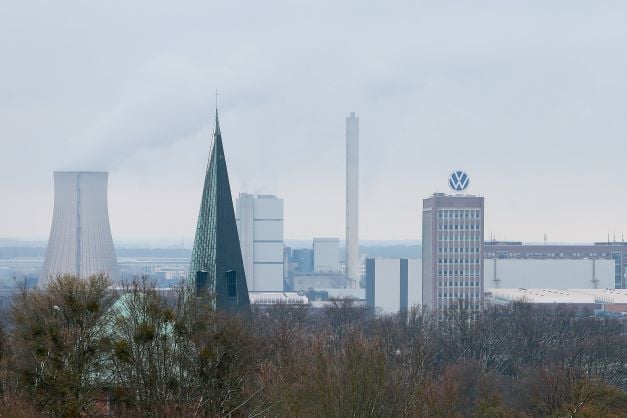 New signings at VFL Wolfsburg must buy into the city's hard-working image
TR: So you do a lot of work in character assessment before signing a player?
MS: "Of course we work with data and video scouting and for sure live scouting on every player, but then we'll be looking to get all the information we can get from social media, from Facebook, Twitter, Instagram. It's very important to understand them. And sometimes it's not only the player, it's the wife or the girlfriend, the children. They have to feel comfortable in our city too. So we are trying to check up on the personnel issues all the time. That is part of the scouting we do to get all the information we can get to have a fully clear picture for one basic decision: sign or not.
"Having a strong character is vital to me. I always tell the players I will never be angry with someone if he misses a penalty. For sure I know he wanted to score. The only thing we request and expect is that if we have a commitment to bring him to the next level I want him to do everything to achieve his goals. That means he's willing to invest a lot of time. Be disciplined, play with passion.
"This is something we definitely expect in our city. We are a worker town. Every single player, every single employee is an ambassador for our city, and an ambassador for Volkswagen. For us in recruitment it is very important not only to find very good players, but also to find players who exactly fit into our location and philosophy."
Get the latest
Receive updates, stories and product news from TransferRoom. You can unsubscribe from these communications at any time