The traditional vertical model where you have an owner, Sporting Director and a coach and the information only flows down and people don't really talk to each other, does not make any sense... so we have tried to tilt that into something that is more horizontal. When we sit down and talk about the roster it's some of us from ownership, it's the General Manager, Sporting Director, coach, head of analytics, scouting. It's a complete group discussion.
It's not rocket science
Newly-promoted to Serie A after two decades away, Venezia FC are not going to get carried away in the pursuit for top-flight stability. Unsurprisingly, considering the President, Duncan Niedarauer, is a former CEO of the New York Stock Exchange, there is a concrete financial plan that the club will firmly stick to.
While that sounds like 'Economics 101' for most industries, such plans have a habit of being torn up in football.
But in the city of canals, the Venezia ownership is set firm on keeping the club's head above water.
"For any enterprise you are running, whether it's a restaurant, a bank or a professional sports organisation, there are certain things that make sense and there are certain things that start to push you into dangerous territory, such as borrowing a lot more than you have the capacity for today and spending a lot today in the hope that it will pay off tomorrow," Barney Schauble, a key member of the US ownership group, tells TransferRoom.
"Everyone knows this. It's not rocket science or a peculiar financial secret. But in football, it's hard to do, because you have a lot of pressure for results on the field, perception off the field, and you are competing with people that may not be operating in a sustainable or rational way.
"You can say it all you want, but if you lose five games in a row and the press is clamouring to fire the coach or the two teams you are competing with each go out and spend €100m on some players they believe are going to help to rescue their team, you have to be dedicated to your principles, and value the long term health of the club and the community more than tomorrow's headlines and results on the field."
Leadership - it's a team game
A close friend of Niedaurer, Schauble is Chairman of Nephila, one the world's largest asset managers dedicated to weather and catastrophe insurance. The pair were minority investors in the original ownership group following Venezia's promotion to Serie B in 2017 and eventually took a controlling interest around 18 months ago when Niederauer stepped into the leadership role.
Making sure "what we do is in the long term interest of the club," as Schauble puts it, is understandable, considering Venezia were declared bankrupt in each of 2005, 2009 and 2015.
As such decisions over the future of the club are made collectively, none more so than when it comes to squad building.
Technical Director Paolo Poggi, Manager Paolo Zanetti and Sporting Director Mattia Collauto - recruitment is a collective responsibility at Venezia FC (picture credit - Venezia FC YouTube)
Schauble, who lives in San Francisco but is involved day to day on the technical side, explains: "We feel very strongly that the traditional vertical model where you have an owner, Sporting Director and a coach and the information only flows down and people don't really talk to each other, does not make any sense. We all come from a partnership background in whatever financial services we were in, so we have tried to tilt that vertical model into something that is more horizontal.
"When we sit down and talk about the roster it's some of us from ownership, it's the General Manager, Sporting Director, coach, head of analytics, scouting. It's a complete group discussion. One of the advantages of that is if we make a decision as a group that this is a player we want, when they arrive everybody is hoping they do well. We take the approach that all people together are smarter than any one person is and we'll make better decisions.
"Last summer, every other morning at 7am [San Francisco time] we'd convene via video and talk about where we are, what's going well, what's not going well. That investment of time and energy paid off over the course of the season, because you know why you made certain decisions. Even if they fail, we could look back and say we all agreed at the time it was a good decision. So then you have collective faults. It's not 'you brought this player in and I liked this other person'. It's more robust and we now have a better understanding of how people work and think. It builds a strong foundation.
"It's unorthodox and certainly isn't the traditional model for European football, although I think it's moving in that general direction. While it takes more time, more work and you have to really trust the people you're working with, it's our belief it leads to better decisions."
Recruitment drive and diversity
The ownership group admits that promotion to Serie A (via the playoffs after a fifth placed finish) came a season or two earlier than expected, and as a result it's been a busy summer for the recruitment committee.
Some 15 new players have come into Venezia at a total cost of around €17m, of which half went on young American midfielders Gianluca Busio from Sporting Kansas City and Tanner Tessmann from FC Dallas. On deadline day came two more signings, Ethan Ampadu on loan from Chelsea, and left back Ridgeciano Haps from Feyenoord in a deal facilitated on TransferRoom.
"Player recruitment is integral to our sustainability goal. You would much rather grow your own players, who understand your culture and come out of your academy than not. You would much rather own players rather than having them on loan from someone else where if they do well you're only really increasing the value for some other club. You want them to feel attached to the project. Obviously there's a mercenary end of the spectrum where everyone is optimising for their own goal, whether it's agent, player or coach, and that leads to a different set of outcomes. But we are honest, try to get the players to understand what we are doing and show them we care about their long term success.
"We want players to be successful. So, come here on a free transfer and leave in two years for a lot of capital that recognises your value, and is good for the club and the player."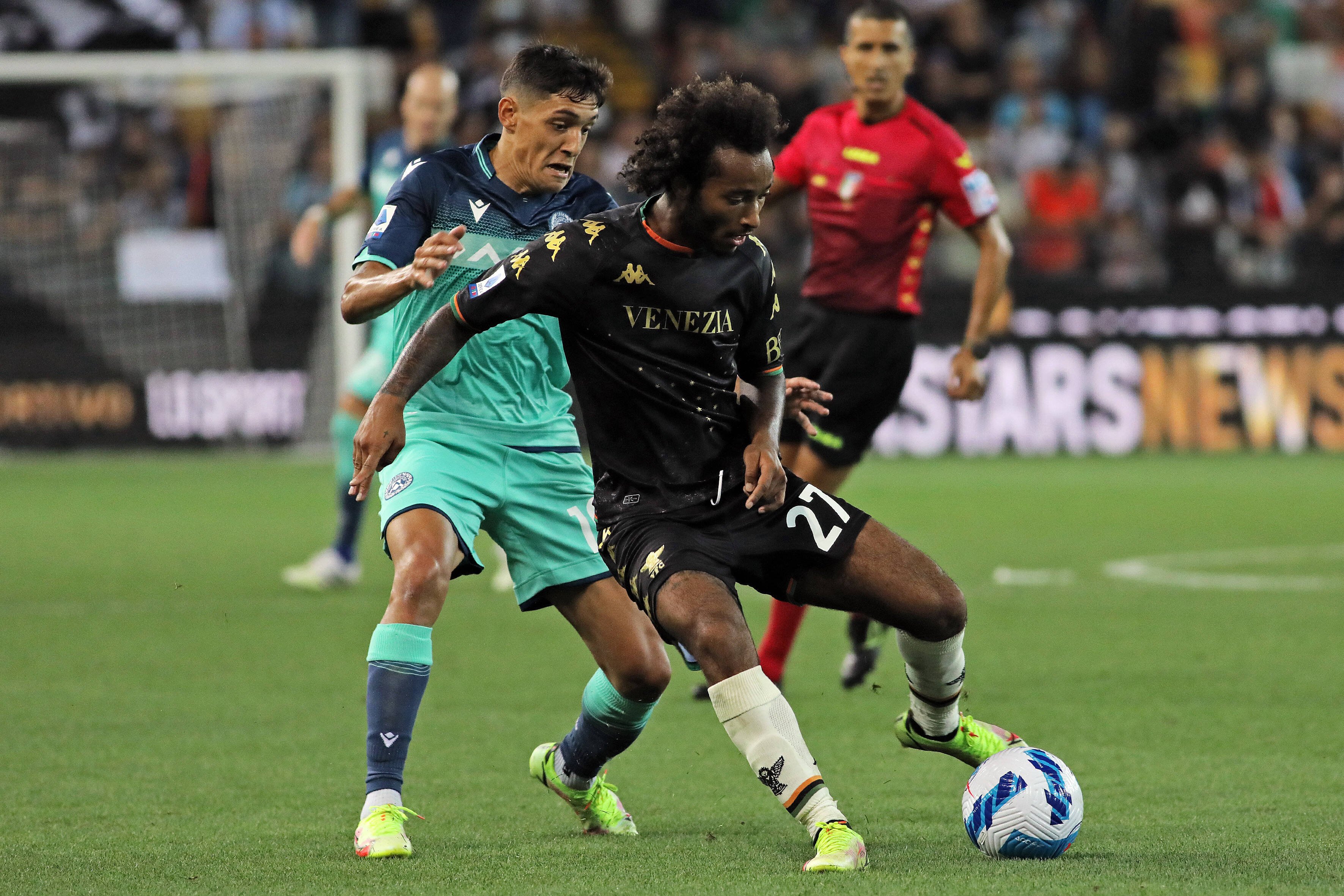 Venezia FC are not afraid to go global with their recruitment, with Gianluca Busio one of three Americans in the squad
Venice is one of the world's top tourist destinations and fittingly just over half of Venezia's squad this season have descended on the city from the likes of Slovenia, France, the UK, Austria and Belgium, the Nordic trio Finland, Norway and Iceland, and further afield from the likes of USA, Israel, Nigeria and Morocco.
The club is happy to look outside of its borders and beyond what it calls "a national bias" for local players.
Schauble continues: "It's a global market for talent and if you can find someone in the next country or the next country over who is talented and is exciting and able to bring something at a third or even quarter of the cost, then that is something you have to consider."
Data is at the heart of Venezia's player trading, and indeed among Niederauer's first decisions as President was to hire a Director of Analytics (Alex Menta), a rare job in Italian football. The club now has two employees in that department, with one of the first players they recommended to the ownership group being Busio.
Schauble says: "Data is very important and we're using all the tools that exist, on TransferRoom and other platforms. But we absolutely insist we match that with seeing players in person. We were looking to bring in a striker last year, we had a shortlist, went to see them and somebody who looked fantastic according to all the analytical metrics, in person just didn't look like someday we wanted to have, in terms of how they moved on the field, their attitude and other things you cannot see with the numbers, so we went in a different direction and we were thrilled with how that played out.
"We are always trying to balance data with judgement, and balance local players with ones from your academy, and internationally. We feel that player recruitment, finding the right players, system and value, is a huge part of being sustainable. It's very easy to rush out and buy somebody frantically knowing that you are overpaying in the hope they are solving your problems, but that doesn't feel like a long term sustainable approach to take."
Power of technology
The commitment to smart recruitment is where TransferRoom fits into the club's way of working.
"We are huge fans of the platform," Schauble says. "A lot of us come out of financial services, insurance or hedging. We have all seen the power of applying technology in what used to be manual businesses.
"The transfer market has always been opaque and complicated, and about who you know. The fact you can move that into a platform where you reduce the friction of clubs being able to talk to one another and provide information in an easily accessible, portable way is vital.
"I look at what's coming in on TransferRoom all the time. And I know that Alex Menta, Paolo Poggi [Technical Director] and Mattia Collauto [Sporting Director] who are building the team and talking to agents and clubs all the time, think it's fantastic.
"No matter how many people you know or whatever your history, you don't know everyone in the market. And no matter how many people we hire, or how smart we want to be, you can only have so many people and so many direct relationships and anything that augments that is fantastic."
Putting Venice on the football map
The ownership group is intent on leaving a legacy on the pitch, and off it too. The Stadio Pier Luigi Penzo has been renovated to meet Serie A requirements, there's a new training facility and plans in place to make the women's and academy teams "part of the sporting fabric of the city."
Schauble continues: "Everyone in the world knows about Venice. It's a fantastic city, it has only had brief representation in the top leagues. We think it deserves a continuous presence in Serie A.
"Certainly part of the original appeal of the ownership group is that no matter where you are on earth you have heard of Venice, and you have a vision of Venice. We were interested in an investment in football and Italy generally as a country but this was such a unique opportunity. There are just no other cities around the world like Venice. We want to make sure that message is part of the club's brand and future."
Get the latest
Receive updates, stories and product news from TransferRoom. You can unsubscribe from these communications at any time