For the young players the most important thing is that we offer the opportunity to play. So you can have a big salary [at a big club] or you have the opportunity to play. They need to choose.
Technical Director
,
Standard Liège
Youthful gains
On and off the pitch, Standard Liège are putting into place the framework they hope will return the club to the glory days of 2008 and 2009 when a young team secured back to back Pro League titles.
That 2008 title was the club's first in 25 years, and was driven by youth - academy products Marouane Fellaini and Axel Witsel and Steven Defour, who joined the club from Genk aged 18.
Now, under the direction of CEO Alexandre Grosjean, Nicaise and Head of Academy Pierre Locht, project youth is taking centre stage once again.
"For a long period, the academy was a little bit closed off to the first team. We made a lot of transfers and I think we moved away from the history of the club," Nicaise tells TransferRoom.
"The club's history is the academy and we need to promote the kids, and to do that you need to be strong and you need to be sure you can promise the young players a position in the first team squad."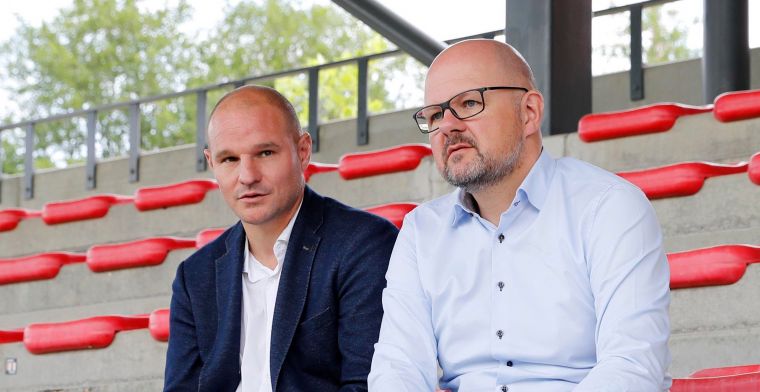 Technical Director Nicaise and CEO Grosjean have embarked on project youth at Standard
Nicaise, a former Standard player, returned to the club in 2017 as Team Manager and then Head of Recruitment and was named Technical Director in June 2020, with a specific task to work closely with the academy to promote the emergence of young talent.
That was partly dictated by the club's finances and the need to significantly reduce the wage bill, but also a nod to Standard's traditions.
The youth push began in early 2020, when a handful of players were promoted from the academy.
That quintet of Michel-Ange Balikwisha (aged 19), Nicolas Raskin (20), Hugo Siquet (19), Damjan Pavlovic (20) and Abdoul Tapsoba (19) made close to 120 combined league appearances in the 2020-21 season, while 23-year-old goalkeeper Arnaud Bodart is the established first choice number-one.
Standard are not completely looking in-house, however.
Nicaise explains: "The transfer strategy is two-sided: the first is to promote the youngsters from academy and to give them the opportunity to play in the first team; and the second is to recruit in the positions that we do not have in the academy, so my job is to try to find a good player that fits our philosophy."
That policy took Nicaise on an 8,000 mile round trip to the Democratic Republic of Congo and, more logistically friendly, to Germany.
Nicaise says: "Last summer I went to Lubumbashi to sign Jackson Muleka from TP Mazembe, and he scored over 10 goals in the season. Likewise, Klauss. In January we agreed an 18 month loan deal with Hoffenheim. Both deals fit with the club's philosophy.
"In general, we try to make fewer transfers but always with an eye on resale."
Balikwisha has already moved on, a €6m move to Antwerp proving a record buy for the club, but the young winger had been strongly linked with moves to clubs in the Europe's Big Five leagues, where Belgium has always been a strong exporter. Right-back Siquet is now the Standard player attracting the most admiring glares from across the continent.
"If some young players from Standard can move to a big club, that is also a very good thing for Belgian football," Nicaise says: "I'm French but I have been in Belgium for 12 years and know the reason we have the academy in Standard is to promote Belgian players.
"With Raskin, Siquet, Bodart, in the next few years, I hope Roberto Martinez [Belgium manager] can call these kids into the national team. This is also a strong reference for the club."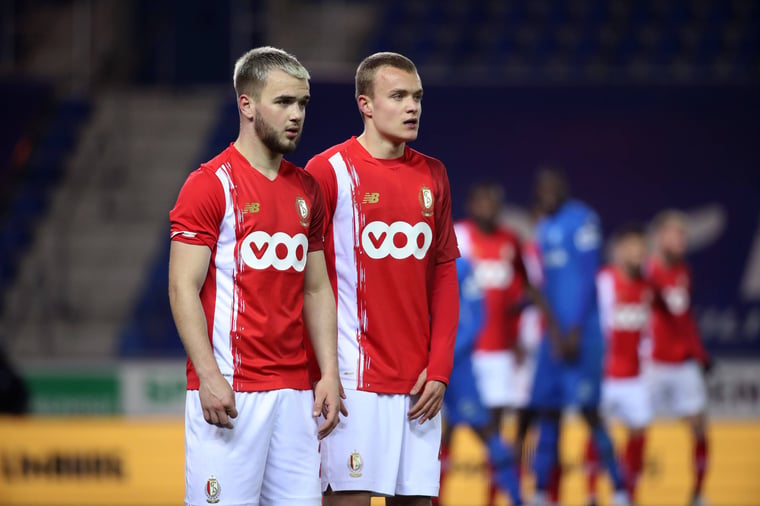 Raskin and Siquet, two Standard Liège academy graudates, who are now regulars in the first team
Money can't buy experiences
By fulfilling their promise of giving young players valuable game time, Grosjean and Nicaise have been able to take pressure off the Standard wage bill through an innovative wage scheme: lower fixed salaries, with an in-built bonus system.
Nicaise calls it his "win-win philosophy", noting: "In sport and in football you need to have a connection with the performance. You are not an officer in a bank, you play football. You need to fight to win a game and you need to have bonuses if you do that. It is a way to excite the players as well, a sporting and a financial objective.
"For the young players the most important thing is that we offer the opportunity to play. So you can have a big salary [at a big club] or you have the opportunity to play. They need to choose. Maybe we give you the opportunity to show your talent and after that you can go to another country and make a lot of money."
Nicaise is well aware of Standard's position in the European football food chain, but it is hoped the youth policy ensures there is a bond between club and player that is harder to break when big contracts come calling.
"We never want to fight with our players about money, because some good clubs are following them. In life there is always someone who is richer than you, and you need to understand this. If a club like Real Madrid comes to buy a player from Standard, it is impossible to fight, so we need to find another solution, an emotional identity, which is very strong for the young players," he explains.
"We have players, like Bodart, Pavlovic, Siquet, Raskin, who signed at the club when they were eight years old and the ambition for them is to play in the shirt of Standard. This is why it is very, very important to create an identity between the club and the players. This is the only way to fight against the money.
"Some players will prefer the money and we can understand that. If you have the opportunity to sign for Chelsea, Real Madrid or Dortmund, it is impossible to fight that. But some young players can change their mentality because they see they have opportunity here and the door to the first team is open."
Get the latest
Receive updates, stories and product news from TransferRoom. You can unsubscribe from these communications at any time