This has been a remarkable transfer window. Club spending records have been broken, player moves – including the two greatest players of their generation – have grabbed the headlines and Premier League clubs have spent in excess of £1bn for the sixth summer in a row. Perhaps most remarkable is that all this has been achieved with lower spending than we have seen in the previous two summers."
Lead Partner, Sports Business Group
,
Deloitte
Summer spending stalls
Overall spending during the summer transfer window by Europe's 'Big Five' leagues in England, Germany, Spain, Italy and France was close to €3bn, according to figures from the international consultancy Deloitte.
The figure is down from €3.25bn a year earlier, and the record €5.5bn spent in 2019, before the pandemic hit.
While spending on fees fell, there remained plenty of movement between clubs, with an increase in high-profile free transfers, such as Lionel Messi, Sergio Ramos and Gianluigi Donnarumma to Paris Saint-Germain, and loan deals, such as Saúl Niguez from Atlético Madrid to Chelsea and Antoine Griezmann returning to Atlético from Barcelona.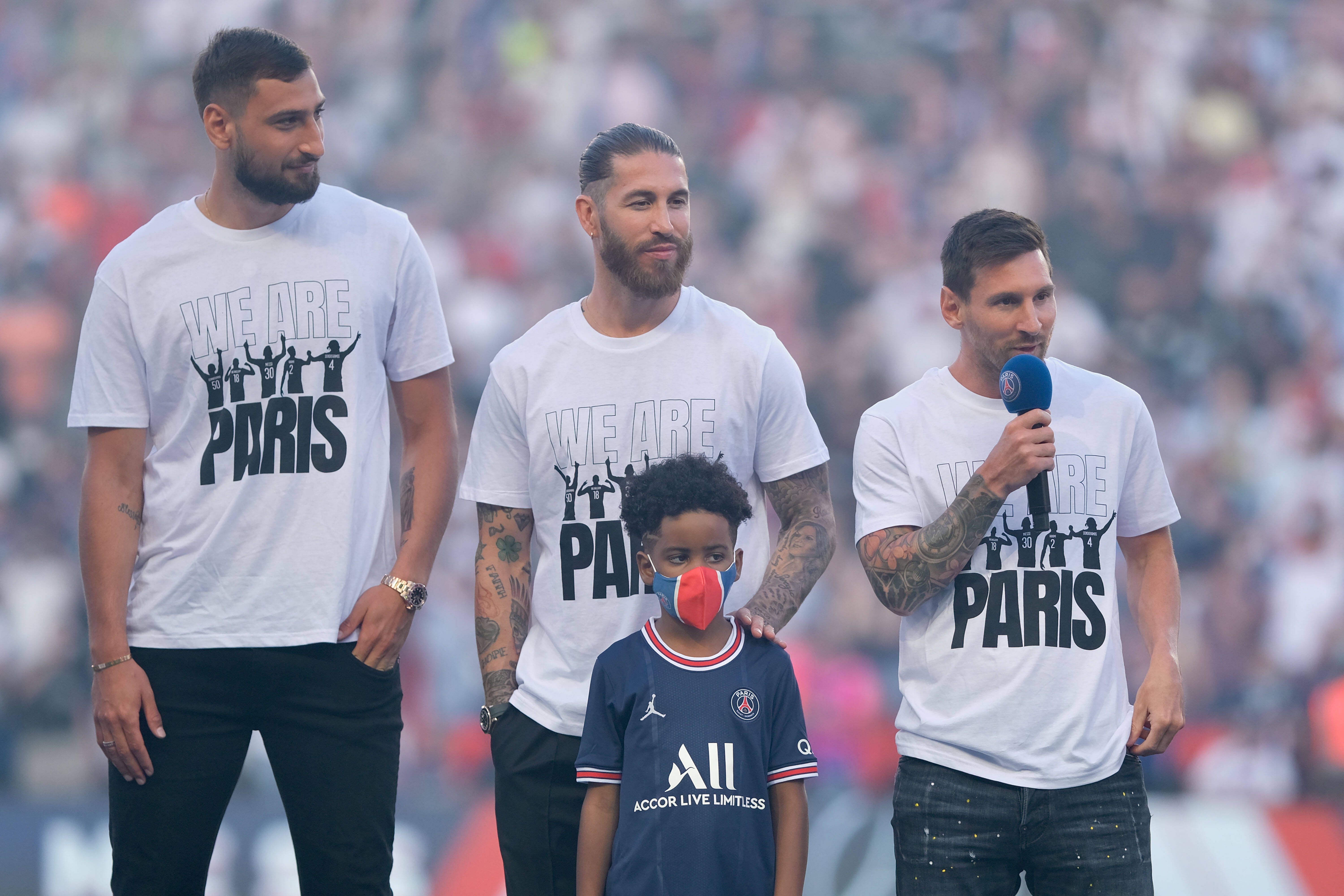 High-profile free transfers were the story of the window at PSG
Total spending among the 20 clubs in the English Premier League was £1.1bn, down 9 per cent compared with the same period last year, and the second consecutive summer window that fees have fallen. It was also the lowest gross spend since 2015, albeit higher than expectations with the effects of the pandemic still being felt.
However, English clubs remained the most active across Europe. The Premier League's net transfer spend was £560m (€655m), dwarfing Spain's LaLiga (€65m), Italy's Serie A (€61m) and France's Ligue 1 (€15m). Clubs in Germany's Bundesliga actually made a net profit from player sales of €40m.
The analysis showed the continuing impact on football finances of Covid-19. Not only did spending decrease, the proportion of players acquired on free transfers rose from 20 per cent to 22 per cent, although the number of players signed by clubs increased from 132 last summer to 148.
Dan Jones, Lead Partner of the Sports Business Group at Deloitte, said: "This has been a remarkable transfer window. Club spending records have been broken, player moves – including the two greatest players of their generation – have grabbed the headlines and Premier League clubs have spent in excess of £1bn for the sixth summer in a row.
"Perhaps most remarkable is that all this has been achieved with lower spending than we have seen in the previous two summers."
In England, the number of transfers increased to 148, from 132 last summer and 128 in 2019, but fees were smaller on average, despite outliers such as Manchester City's £100m signing of Jack Grealish.
That was one of four Premier League signings to cost £50m or more, but the number of mid-market deals (priced £10m-£25m) fell from 33 to 20 year on year.
Free transfers increased in popularity, meanwhile, to make up 22% of English top-flight signings.
Jones said: "This reflects twin forces of clubs prioritising financial stability and seeking value in the market while also being willing to pay for the very best talent. This pattern has been reinforced by the financial impact of the Covid-19 pandemic and the relative financial strength of the Premier League clubs compared to some of their European peers."
Germany was the only one of the Big Five leagues to see an increase in gross spend, and a net profit, but that owed much to English teams buying £73m Jadon Sancho (Manchester United), £35m Ibrahima Konate (Liverpool) and £25m Leon Bailey (Aston Villa) from Bundesliga sides.
A decade of deal tracking
The summer transfer window closed in much of Europe in the week that FIFA revealed spending on international transfer fees over the last decade had increased from $2.66bn in 2012 to a peak of $7.35bn in 2019, while players' agents received $3.5bn in commissions.
The FIFA study said average transfer fees for players moving to a club in a different country rose steadily between 2012 and 2019 before the Covid-19 pandemic strained finances and led to a drop in 2020, when $5.63bn was spent.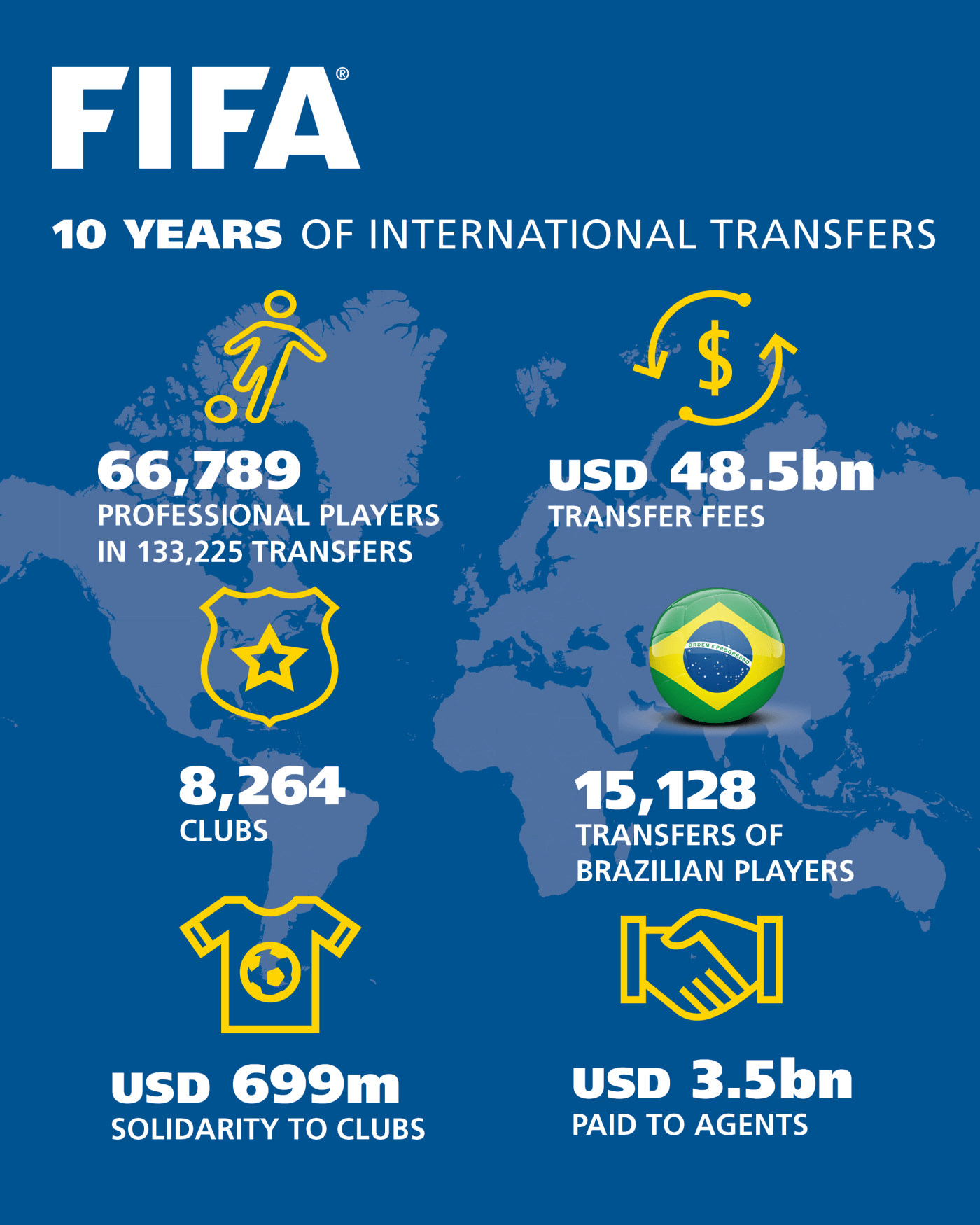 Credit: FIFA.com
In all, $48.5bn was spent on international transfers over the past 10 years, with the top 30 spending clubs all based in Europe. The world record remains the €222m paid by PSG to bring Neymar from Barcelona in 2017.
Indeed, Brazilian players were the most on the move , topping the list with over 15,000 moving between clubs in different countries, followed by Argentinian (7,444), British (5,523), French (5,027) and Colombian footballers (4,287).
English clubs spent the most in the last decade at $12.4bn followed by Spain ($6.7bn), Italy ($5.6bn), Germany ($4.4bn) and France ($4bn). The only non-European country in the top 10 was China, with $1.7bn.
Player agents' commissions jumped from $131.1 million in 2011 to $640.5 million in 2019, almost a five-fold increase.
Manchester City (130 incoming transfers) and Chelsea (95) topped the spending while Portuguese clubs Benfica and Sporting were the biggest benefactors from transfer fees.
The full report on 10 years of international transfers is available here.
To find out where deals can still be done, visit our Football Transfer Window Countdown.
Get the latest
Receive updates, stories and product news from TransferRoom. You can unsubscribe from these communications at any time