There is always a challenge to retain and attract players when your neighbours are stronger. They [Denmark] are so close to us, but there is a huge difference in financial capabilities.
Sporting Director
,
AIK Fotboll
Academy talent key to prosperity
With a richer neighbour to the south in Denmark, clubs in Sweden face a constant battle to retain and attract talent.
For Stockholm-based AIK, investment in youth development has brought financial benefits. Of the club's 10 biggest player sales by transfer fee, eight moved when they were aged 23 and under, and two of those were teenagers.
Sporting Director Henrik Jurelius tells TransferRoom: "When going into a transfer window, of course you always hope to come out of it with a stronger team.
"We want to stay at the top, and the ambition always is to qualify for the group stages of European competition. But we know there is a big interest in our players and it is not easy to hold on to them.
"Financially in Sweden, the football is below Denmark, so it is hard to compete. The value of the league TV rights are not as big in Sweden as in Denmark so the clubs there have more money and the taxes are better there for the players.
"It means there is always a challenge to retain and attract players when your neighbours are stronger. They are so close to us, but there is a huge difference in financial capabilities."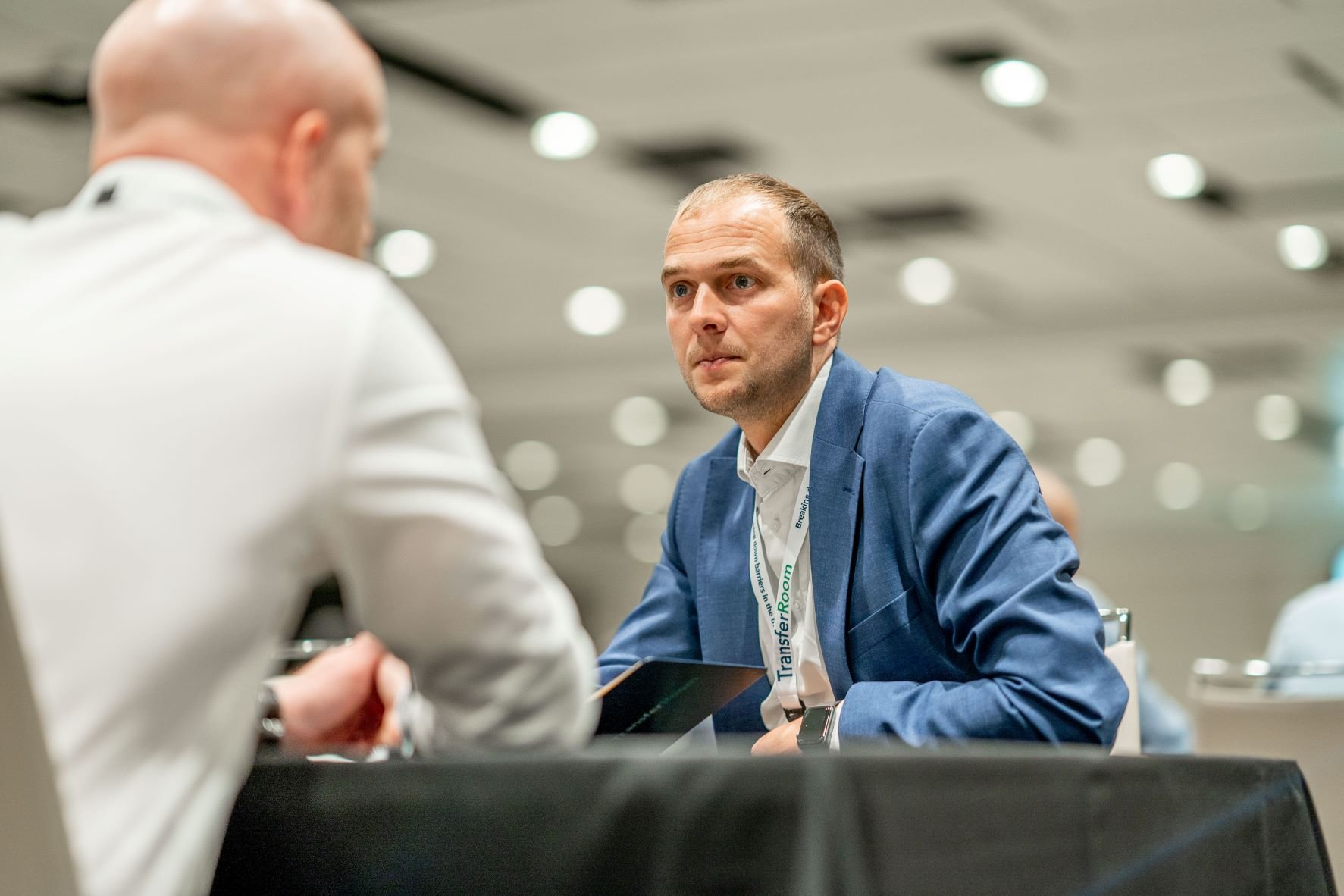 AIK Sporting Director Henrik Jurelius at a TransferRoom Summit
The financial strength of the Danish league is also highlighted by the transfer fees their clubs can command. According to data compiled by TransferRoom, the average fee over the last five years for player transfers out of Sweden is €220,000, compared with almost €500,000 in Denmark.
But with direct access to the needs and wants of more than 650 clubs worldwide and their decision-makers, being on TransferRoom is creating wider selling opportunities for AIK, should the need arise.
Jurelius says: "The expectation of the club and the supporters is to win every year so the biggest issue for us, especially after the pandemic, is that we have a squad that if we hit the crossbar one year and we don't quite qualify for Europe, we have the opportunity to transfer a player.
"That's why we are aiming for three academy players in the starting XI so we always have something to lean back on, from a financial perspective."
The club's top young talents at present include the likes of Bilal Hussein, captain of Sweden U21s (born 2000), Yasin Ayari (2003) and Amar Abdirahman Ahmed (2004).
All three came out of the AIK academy, which counts senior internationals Alexander Isak and Robin Quaison among its famous graduates, and which is core to the work Jurelius and the football department are doing.
He explains: "We want to play at least three Under-21s in the starting XI. In a squad of 18, you have to have nine homegrown players, so 50%. But we aim for only between 20% and 30% of foreign players each season.
"We have a focus on youth and the academy, and for the other more experienced players, they could be 25 or 36, age doesn't really matter. What's most important is having the right character to help develop the next generation."
Jurelius, who has been in the job since the start of the 2020 season, cites veteran Sebastian Larsson, who won over 130 caps for Sweden, and much-travelled forward John Guidetti as "excellent examples" of that recruitment strategy.
"With Sebastian, you can see the development of the players playing alongside him in midfield, like Bilal Hussein this year. That is something that is part of our strategy.
"We think that John Guidetti has these qualities as well. When he had a vacation before he joined us, he called up some of the young players and invited them to come and train with him. That is the mentality we want."
TransferRoom network aids short-term star signing
Guidetti took the place of fellow Sweden international striker Jordan Larsson, who was a surprise short-term signing from Spartak Moscow ahead of the 2022 season.
In the wake of Russia's invasion of Ukraine, FIFA gave special dispensation for foreign players in either country to suspend their contracts until June 2022 (later extended to June 2023) and find a temporary club elsewhere.
According to TransferRoom, Larsson had an Expected Transfer Value (xTV) of around €9m when he moved on loan to AIK.
A player well beyond the traditional financial reaches of any Swedish club, but extenuating circumstances and a connection made on TransferRoom helped secure the deal.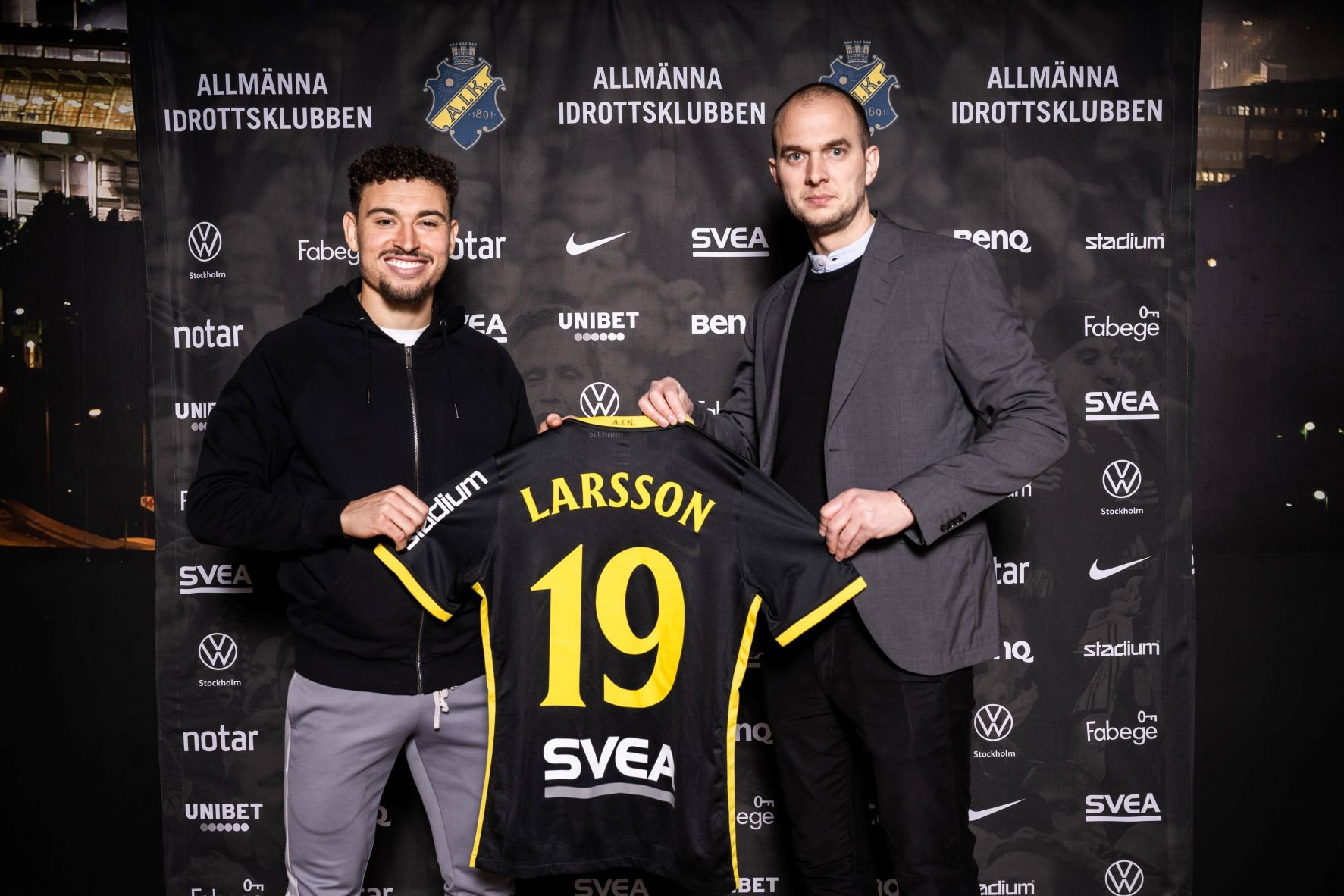 "It's a lot about the contacts you make": Jurelius with short-term signing Jordan Larsson
Even after many years in the game, you can't know everyone at every club. Alerted to Larsson's potential availability but unsure of the correct contact at Spartak, Jurelius declared interest in the striker on TransferRoom and soon received a call from the Russian club's Sporting Director to complete the loan deal.
"It's about the contacts you make, whether on the platform or at the live events, where you save a lot of time meeting 180 clubs," says Jurelius, with AIK also having found success in finding first team experience for their squad players.
He continues: "We have eight players out on loan, and some of those are due to the work on TransferRoom where we found good partner clubs.
"If you have a player who you feel in pre-season that the lack of playing time will be a problem, then you have to find a solution.
"Loans should be beneficial for the two clubs and the player, but it is not always easy to find a perfect match. The information you get and can share on TransferRoom helps find those matches that suit everyone."