When you can have only six foreigners, it means you need 16 to 18 Israelis in your squad. If I sell one Israeli, I need to buy an Israeli. And if I sell him for NIS 3-4m, everyone will know this and they will ask for NIS 3-4m for the player I want to buy. It's not so easy recruiting in one market.
Chief Scout
,
Maccabi Haifa
Passport puzzles
Following a 10-year spell without a league title, Maccabi Haifa were crowned champions of Israel for the second successive season in 2021-22.
But they quickly had to focus on how they would prepare their squad to defend the title in 2022-23.
Goalkeeper Josh Cohen, full-back Mickaël Alphonse, midfielder José Rodríguez and striker Godsway Donyoh were all out of contract, with Cohen the only one staying as the others moved elsewhere.
Three of those are foreign players (Cohen has joint USA-Israeli nationality), accounting for half of the club's allowance, per league eligibility laws.
They filled the international places in their squad with Frantzdy Pierrot from Guingamp, Aris Saloniki's Swedish right-back Daniel Sundgren and French left-back Pierre Cornud from Spanish side Real Oviedo as they prepared for their title defence and UEFA Champions League qualifiers.

For their recruitment and scouting departments, it's a constant puzzle.
Despite the promise of a higher salary on offer compared with many European countries, when a slot does become available, attracting foreign players to Israel is no easy task for the Maccabi Haifa recruitment division.
Gal Sternberg Fish, the club's Director of Data & Technology who works both on scouting and performance, says: "We know that we cannot bring players from the Premier League or La Liga, so we look at markets closer to us. But to persuade a player to come to Israel is a big challenge. Not everyone knows Israel; everyone thinks about sand and camels and rockets. It's not like that here.
"We have a full stadium every game, 30,000 people. Everyone that comes to play here is surprised by the atmosphere, the quality of the facilities, the competitiveness of the team, challenging for titles every year, and playing in Europe. It's about selling that story."
Chief Scout Izhar Kishon adds: "If you're talking about targeting players from Austria, Hungary, Slovakia, Slovenia, Serbia - they are all basically in the same place. Going by car it's three hours between them. To Israel, it's a five-hour flight. So it's hard to tempt a player to come here rather than stay close to friends and family."
That's where TransferRoom comes into play for the Israeli champions.
Kishon notes: "I use TransferRoom a lot to build up my knowledge of what is happening in the market, to see what clubs are looking for and just importantly what they don't need any more. So we know who and when to pitch.
"Our recruitment process is to be very active with our eyes, fed by data, and then use our network to increase our knowledge."
Two players did make the move in the winter, right-back Alphonse from Amiens in France, and Congolese winger Mavis Tchibota, a €1m signing from PFC Ludogorets in Bulgaria. Like Cohen, Tchitoba holds dual Israeli nationality, meaning he did not fill up one of those six slots.
Alphonse did though, forcing a squad reshuffle.
The Guadeloupe international's arrival meant Maccabi Haifa had seven foreign players in their squad. And so in order to get the 32-year-old registered, Australian Ryan Strain was released from his contract.
Kishon says: "If you understand that your 'position x' is not good enough to be filled by two Israelis, so you've decided you have to go with a foreign player, then you have to release one of the other foreign players."
Fish adds: "It's like a puzzle. We know what we have, we know the Israeli and foreign players we have, and we know the Israeli market. It's about piecing together all the different parts."
"I'd say it's more like a blanket," jokes Mizhon. "When you pull it on one side, maybe you get cold on the other."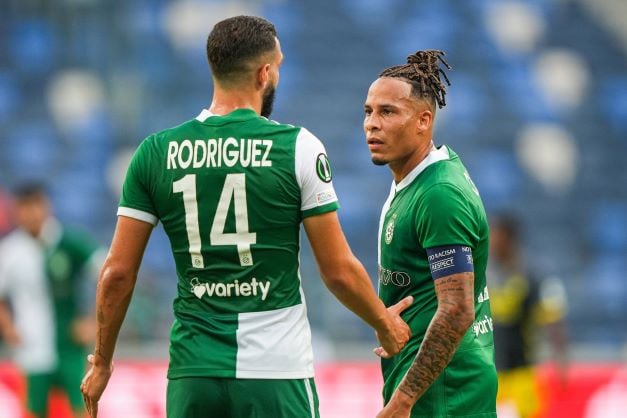 Spaniard José Rodriguez and Suriname's Tjaronn Chery , two of Maccabi's six foreign players in 2021-22
Paying a domestic premium
With these foreign player limitations in place, Maccabi Haifa place great importance on their academy with a new initiative launched for this season to speed up player development.
Ahead of the 2021-22 season, they linked up with Hapoel Afula, sending 10 players out of the Under-19 squad on loan to the second division club to gain vital first-team experience.
"We still have players on loan at other clubs, but this is a much more structured way to do it," said Fish. "Ten players who know they are the future of Maccabi Haifa, but who aren't quite ready now, and play in a style similar to the first team here. It is the perfect preparation."
Kishon adds: "It is easier to follow them in one place, and there's more chance they will be ready for our first team. When I loan a player to a small team fighting relegation, they play a very different style. They are not always ready for the first team here."
Developing your own talent is essential in Israeli football, because domestic recruitment does not come cheap.
Kishon explains: "Selling is not the top priority at Maccabi Haifa. When you can have only six foreigners, it means you need 16 to 18 Israelis in your squad. If I sell one Israeli, I need to buy an Israeli. And if I sell him for NIS 3-4m, everyone will know this and they will ask for NIS 3-4m for the player I want to buy. It's not so easy recruiting in one market."
Haifa top xTV table too
Maccabi Haifa had the most valuable squad in the Israeli top flight in 2021-22, according to data compiled by TransferRoom. Their squad had an Expected Transfer Value of €34.4m, putting them ahead of Maccabi Tel Aviv (€23.8m) and Netanya (€17.2m).
Top scorer Omer Atzili had the highest xTV among all players in the league, at €3.9m, while Serbian striker Djordje Jovanovic of Maccabi Tel Aviv was the most valuable foreigner, at €3.7m, ahead of Maccabi Haifa's Niger international Ali Mohamed (€2.9m).
Two more of Maccabi Haifa's foreign contingent made the top 10, Serbian defender Bogdan Planic, and Chery (see graphic below).