We recently sold a player to MLS so being at the TransferRoom event in Orlando was an opportunity to meet more clubs from the league and bring a couple of our other players to the table. If we knew that three of clubs are now looking for left backs, maybe we could have bumped up the price and not sold our left back already!"
Advisor to Owner and President
,
FK Sarajevo
Hindsight is a wonderful thing.
In late January, FK Sarajevo were celebrating an historic moment, following the sale of their academy graduate Selmir Pidro to St Louis City SC, the newest franchise in Major League Soccer, for an undisclosed fee.
Fast forward a month and the Bosnian club were left wondering whether they could have started an auction for the 23-year-old after learning at the TransferRoom Americas Summit in Orlando, Florida that a handful of other MLS clubs were in the market for a left-back.
Frustrating, maybe, for the five-time champions of the Premier League of Bosnia and Herzegovina, but an early indication of the benefits of being on the platform.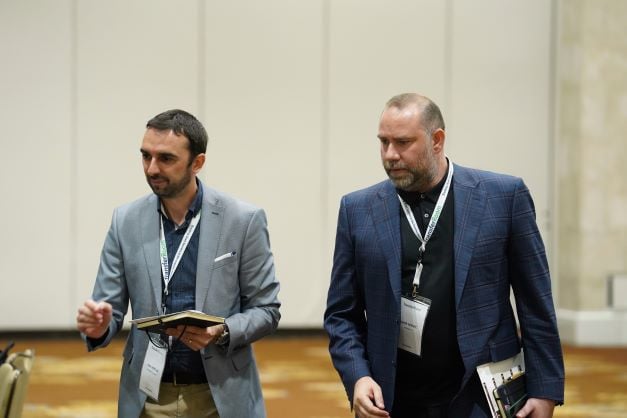 FK Sarajevo President Ismir Mirvic (right) and advisor Ivan Kepcija at the TransferRoom Americas Summit
Experienced Sporting Director Ivan Kepcija, now Advisor to FK Sarajevo President and joint-Owner Ismir Mirvic, tells TransferRoom: "It's all about information. Information is super valuable in our business.
"Being a selling club, availability of the network is crucial for us. TransferRoom gives us more power, so we are less agent dependent. We have direct access to information, such as what is on the market and what clubs need. We consider this an investment, not an expense.
"We recently sold a player to MLS so being at the TransferRoom event in Orlando was an opportunity to meet more clubs from the league and bring a couple of our other players to the table.
"If we knew that three of clubs are now looking for left backs, maybe we could have bumped up the price and not sold our left back already!"
Pipeline now in place for star academy
Pidro will remain on loan with FK Sarajevo until the end of the 2021-22 season, before moving to St Louis, which will debut in MLS in 2023. He was their first-ever signing.
Pidro is one of three Bosnian internationals in the FK Sarajevo squad aged 23 or under, along with goalkeeper Belmin Dizdarevic and midfielder Andrej Dokanovic, both 20, with all three having come through the club's academy, widely regarded as one of the best in the Balkans region.
All three players also feature in the top 10 valued players in that age category in the Premier League of Bosnia and Herzegovina, according to TransferRoom's Expected Transfer Value calculations (see graphic at end of story).
Mirvic, who owns the club along with the Malaysian businessman Vincent Tan, said of the Pidro sale: "This is a historic moment not only for FK Sarajevo or Selmir Pidro, but for the entire BiH football. At the same time, this is an unequivocal confirmation of the quality of our academy as a place that continuously builds talent and opens the way for other Bosnian children to realise the American Dream."
Mirvic himself is based in the US and believes that connections made via the TransferRoom Summit and online platform will pay dividends for young players across the Balkans in the future.
He tells TransferRoom: "Think of us as being the biggest club in the smallest market. Bosnia itself only has 3.5 million people, and Sarajevo has a million of those. Being the biggest brand in the smallest market, the recruitment happens all over the country and even in the region south of Bosnia, so Kosovo, Albania, Montenegro, North Macedonia. That gives you the product for your academy that you then mold for numerous years.
"What we are doing now is really establishing that pipeline to be able to sell directly to some of those leagues, like MLS. TransferRoom will give us access to the ultimate buyer, not all these intermediaries that come to you with a different proposal. That is where you lose money."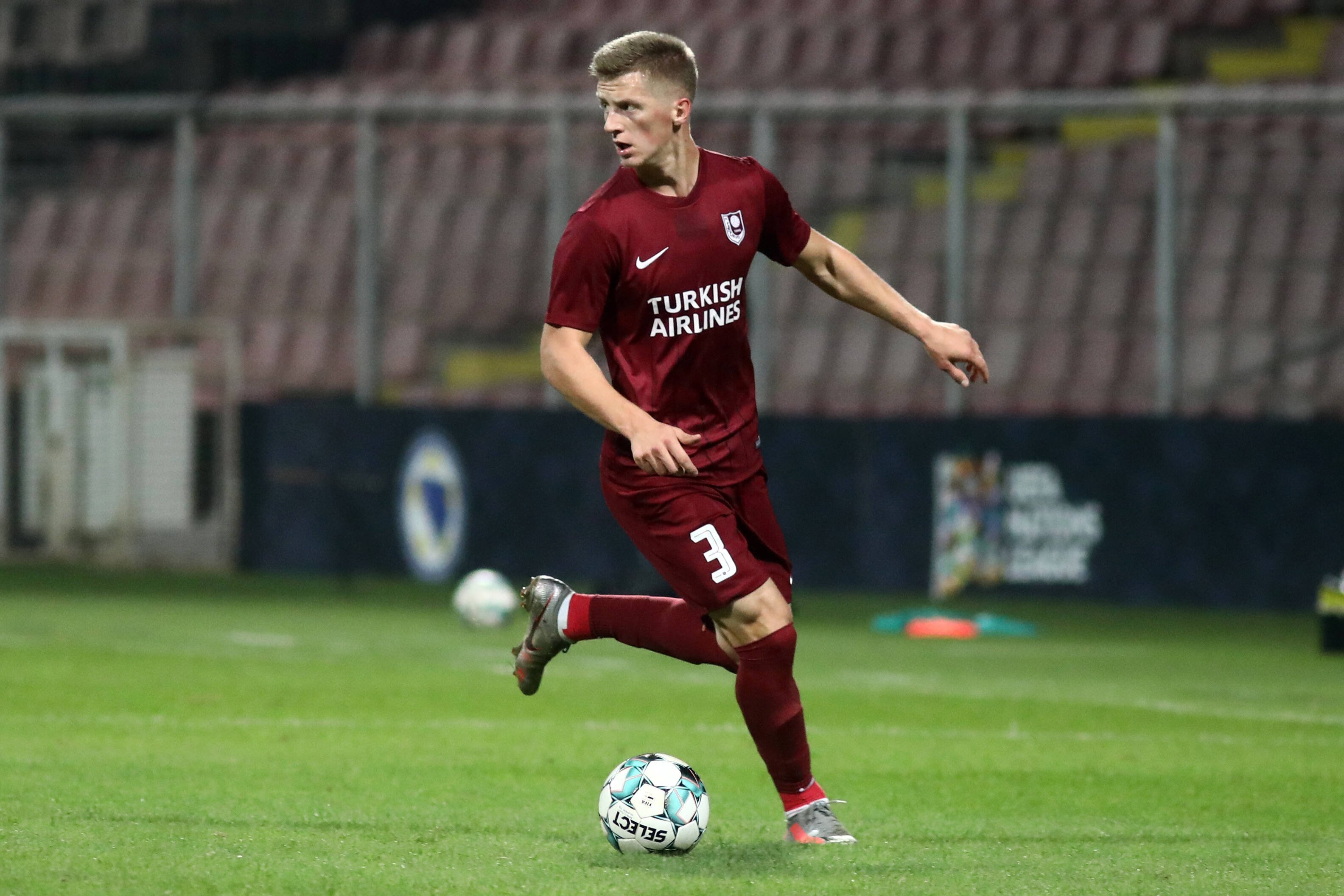 Selmir Pidro's impending move to MLS has opened up a new pipeline for FK Sarajevo's young players
Indeed, fast reliable market information and direct access to a global network of decision makers are not how transfer business is traditionally done in the Balkans.
Kepcija, former Sporting Director at Hajduk Split and Technical Director at Legia Warsaw, and most recently Chief Scout at Hibernian, explains: "The Balkans has mostly been agent based or just relationships you have personally as a club. When you are a Sporting Director somewhere you build relationships yourself regardless of club connections, but this platform multiplies that. However good a Sporting Director you are, this just multiples all of your opportunities.
"The rest of our competition will definitely stay behind by not signing up for TransferRoom because they won't have access to this.
"We just sold our first ever Bosnian player to the MLS. Add to that now we have this [TransferRoom] as a hook for players to come to us rather than a competitor because we have this pathway to the rest of the world. It will help us with buying players, as well as selling."
And despite having ambitious plans to compete in European competitions, FK Sarajevo are under no illusions that player trading is key to survival.
Mirvic says: "Player sales should be the top one or two revenue generating channels for a club like us. You look at some European clubs and they get revenue from commercial sales, ticket sales, TV rights. For us that is meaningless in a small market, so player sales is the meaningful revenue generating option."
Kepcija adds: "Our revenue structure is insufficient for our ambitions. European competition for a club of our size is realistic, and our outgoing transfers are the thing that will help us in bridging that gap in our own budget. Most teams in the Balkans operate on this level and that's why all the Balkan leagues are developmental leagues as seen from the top five.
"We as a big club in our country have to balance between winning titles, playing Europe and promoting youngsters that are going to be our product for the market."
Duo lead Bosnian league's xTV charge
HSK Zrinjski Mostar have emerged as one of FK Sarajevo's biggest challengers over the last few seasons, and look set to win a seventh league title this year.
It is no surprise, therefore, that the two clubs dominate TransferRoom's U23 xTV analysis of the Premier League of Bosnia and Herzegovina.
And the data shows the value in FK Sarajevo's squad, with goalkeeper Belmin Dizdarevic valued at just over €1m, the third highest in the league in the U23 category, and Djokanovic at around €800,000.
Pidro's xTV of €600,000 takes into account his recent move and the fact his new club would not be inclined to sell him on.
It is thought St Louis City paid around €330,000 for Pidro, who TransferRoom valued at €500,000 before his switch, an indication that the MLS debutants may well have found a bargain.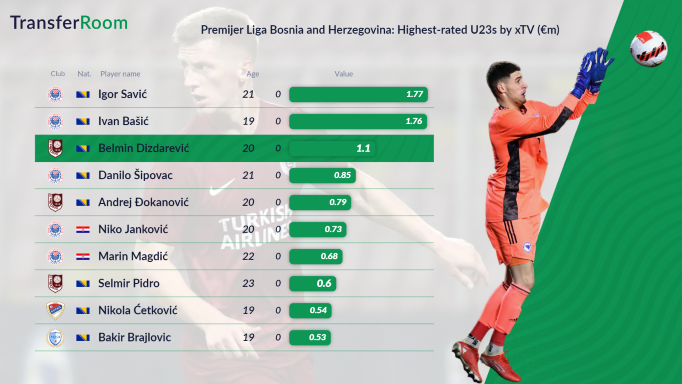 Get the latest
Receive updates, stories and product news from TransferRoom. You can unsubscribe from these communications at any time