My job is not to move players away. My job is to facilitate and help get these academy players into our first team. That's the whole aim of the academy system. We are investing heavily in the youth system and academy market.
Loans and U23 Manager
,
Leeds United
Premier League young guns
Leeds have named the youngest matchday squad on average in the Premier League, and the sixth-youngest across Europe's big five leagues.
According to TransferRoom analysis, the average age of the Yorkshire club's squad for domestic league matches this season has been 24.04, putting them ahead of Arsenal, Brentford, Norwich City and Tottenham Hotspur.
Across Europe's big five leagues, only Ligue 1's Stade Reims, Stade Rennais and AS Monaco, VfB Stuttgart in the Bundesliga and Serie A's Spezia Calcio have named younger squads on average.
At 23.15, Stade Reims top that table.
Leeds, firstly under head coach Marcelo Bielsa and then his successor Jesse Marsch, have been without a host of first-team players this season due to injury, principally among them centre-back and club captain Liam Cooper, England midfielder Kalvin Phillips and 2020-21 top scorer Patrick Bamford.
With clubs able to name nine substitutes and Bielsa's preference to work with a small squad (Marsch did not come in until after the Winter Transfer window closed), a number of Leeds' talented Under-23 players have been promoted into the first-team fold.
That has resulted in more than 1,000 minutes being given to Leeds players aged 23 and under this season, with a division record of eight teenagers being given Premier League debuts (see graphic).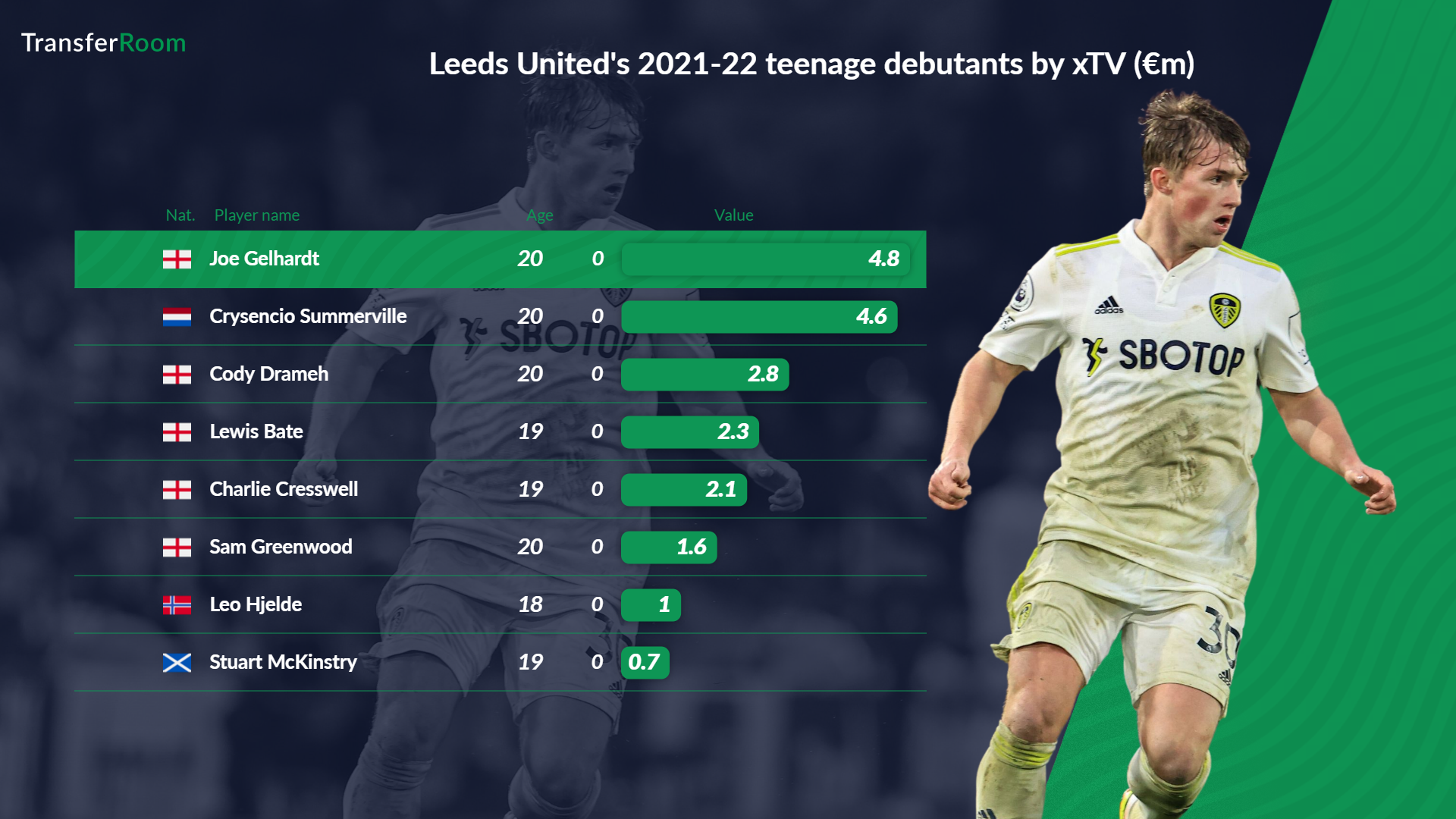 Joe Gelhardt, xTV of €4.8m, has been one of the breakout stars of a tough season for Leeds United
For Loans Manager Andrew Taylor, who Marsch has also promoted to U23 Manager, the circumstances have represented a challenge when it comes to helping build and plan young players' careers.
Speaking to TransferRoom at a recent live summit, Taylor said: "It's been like a jigsaw. Within our U23s we have a bunch of really good players, who could all go out and play 30 to 40 games a season at a good level. The problem is we cannot allow that because they are still needed within the first team."
Back-to-back matches in March epitomised Leeds' season: a 2-1 win over Norwich City thanks to an injury-time goal from substitute striker Joe Gelhardt (20); followed by a 3-2 comeback win at Wolverhampton Wanderers in which three first-team players were off injured by 60 minutes, and replaced by Charlie Cresswell (19), Sam Greenwood (20) and Kristoffer Klaesson (21).
It was a similar story for another 3-2 away win earlier in the year at West Ham United, when in-game injuries to two senior players meant that Lewis Bate (19) and Leo Hejlde (18) were brought off the bench. In doing so, they became Leeds' seventh and eighth teenagers, respectively, to make their Premier League debuts this season.
While those stats reflect the severity of Leeds' injury situation, they also demonstrate the faith the management team have in his young group.
First and foremost for Taylor, the priority is seeing academy players in the first team.
He explains: "The bottom line is they are Leeds players and if the manager wants you at Leeds then that's great. That's what we all want. My job is not to move players away. My job is to facilitate and help get these academy players into our first team.
"That's the whole aim of the academy system. We are investing heavily in the youth system and academy market."
Academy investment paying off
Bielsa's preference was to have an 18-man first-team squad supplemented by a host of young talents from the U23s, and regardless of what league Leeds find themselves next season, it is a philosophy the club will stick to.
Speaking on Training Ground Guru's recent Scouting & Recruitment Webinar, Victor Orta, Leeds' Director of Football, said: "If you believe in youth development you need to prove it. Our idea is 18 professionals and the other four players all with the under-23s because we believe in youth development and want to give responsibility to the academy.
"It's true that it's risky. It's true that if you have these four players with more experience perhaps the results in the short-term will be better. But it's true on the other side that you create a lot of bad ways.
"The other week we won a difficult game against Wolves with Charlie Cresswell, Sam Greenwood and Kristoffer Klaesson on the pitch and on another day Joe Gelhardt (main image, right, with Marsch and Greenwood, left) scores to make it 2-1 against Norwich and Lewis Bate is in the team that beats West Ham.
"I create these answers because it's worth millions, long-term, for the club. To build players is really important."
And, according to TransferRoom's Expected Transfer Value calculations, Leeds United's strategy is paying off from an asset management viewpoint.
Over the course of the season, for example, Gelhardt's xTV has risen from €1.1m to €4.8m, while Dutch winger Crysencio Summerville (20) has more than doubled in value, from €2.2m to €4.6m.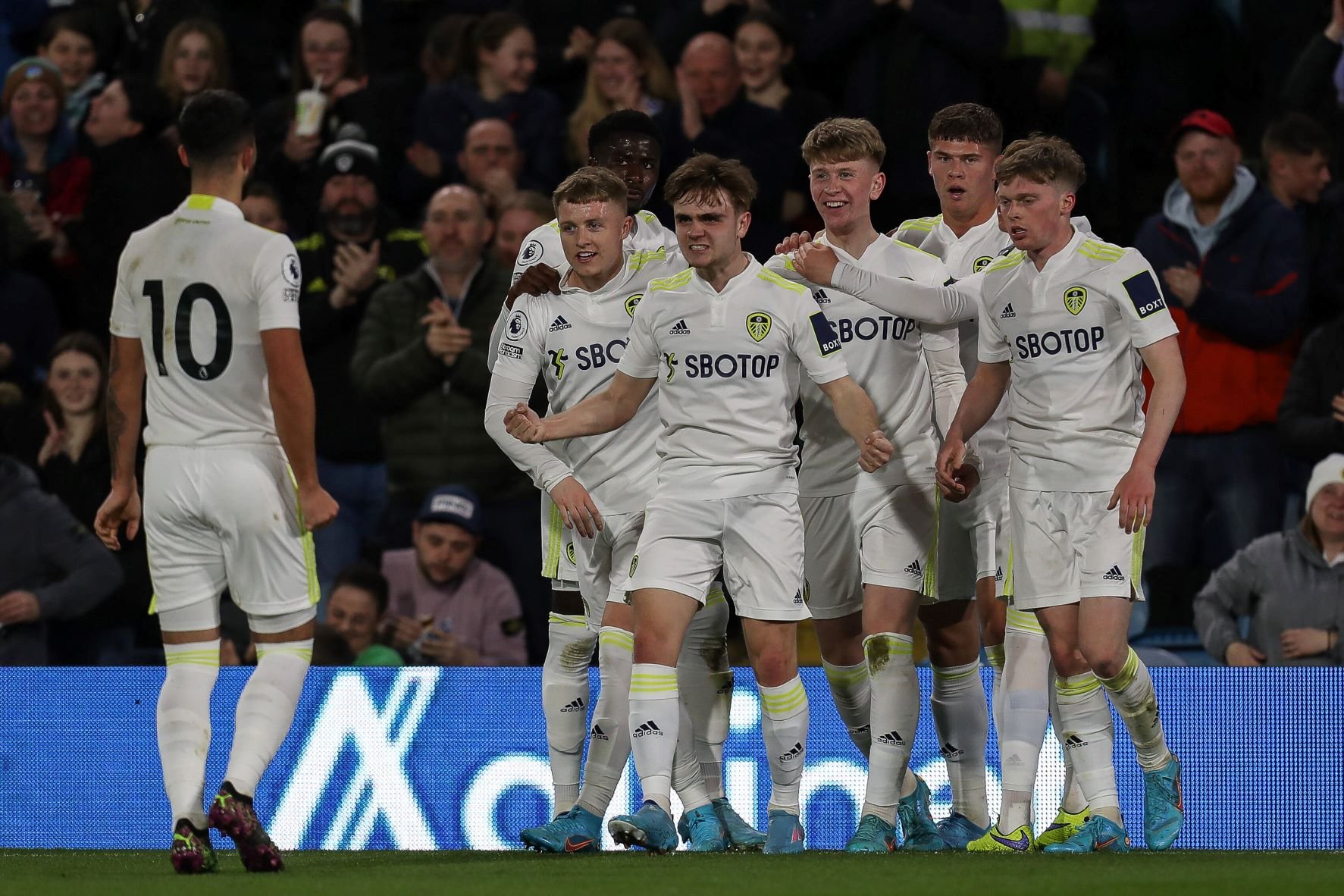 The next generation: Leeds United's talented U23s
Orta continued: "Leeds United is not a team that can be in the market for £150m each time. We can buy one or two [players with established] careers but then we need to build [players'] careers.
"The only way to build careers is to make our people anticipate talent – to create players at 14 or 15 who can be future Premier League players and create a pathway there.
"I believe in my recruitment department. [What] is better for me - the 450 minutes for a striker in Joey Gelhardt, or 450 minutes for a striker who is 31 years old? I believe in the first."
It is that attitude and commitment to youth that helped the club entice England youth international Bate from Chelsea last summer, which was considered a coup at Elland Road, and, as well as highly rated 18-year-old striker Mateo Joseph Fernandez from La Liga side RCD Espanyol in January.
But that's not to say loans cannot be valuable too for the parent club, both in terms of player experience and financial gain.
Leeds right-back Cody Drameh did get a loan opportunity, and has grasped it, winning Cardiff City's Player of the Year award despite having only joined in January, while left-back Leif Davis has been part of AFC Bournemouth's promotion to the Premier League.
As a result, Drameh's xTV has risen 20% over the season to €2.8m, while Davis is now valued at €2.2m, compared with around €600,000 back at the beginning of 2021-22.
Loan management: proactive v reactive
For others, like Ryan Edmondson, the loan experience has been a learning curve. The 20-year-old striker made just four league starts in the first half of the season at Fleetwood Town.
Needing game time, Taylor and Leeds acted decisively, with Edmondson recalled and promptly sent on loan to Port Vale.
Taylor explained: "Part of my job is to monitor them over the course of the season, certainly in the first half to see how they go. You would love to control a loan. But there are a lot of 'uncontrollables': managers' opinions, change of manager, injury, form.
"If we can monitor the situation and we feel it's beneficial for the player and us to maybe change it up and put him in a different environment, then yes we do that."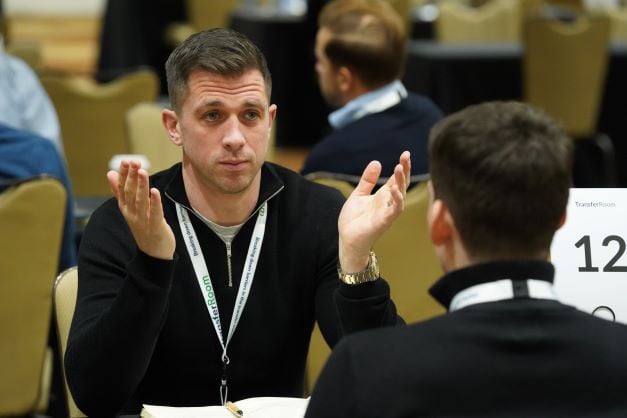 Andrew Taylor at a recent TransferRoom Summit
And using TransferRoom has enabled the club to be more strategic when it comes to assessing loan opportunities.
Taylor explained: "You want to have a process behind the loan, rather than we've got this player available for loan, who wants him, where can he go. We don't want to do that. Placement is key: the environment he is going into, the playing philosophy, the league, the standard, squad composition - is he going into a squad where he is not good enough to be in the starting 11? That's not beneficial.
"With TransferRoom, you can see straight away what teams are looking for so you can pitch players precisely where you feel they might best fit, rather than having a bit of a scattergun approach.
"Ultimately if we are sending a player out on loan, first and foremost it's all about development."
Get the latest
Receive updates, stories and product news from TransferRoom. You can unsubscribe from these communications at any time